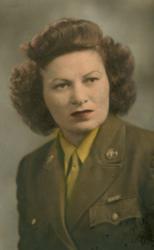 "I joined the Army to pay back this country for what it had done for my family. We were all free and freedom is not free."
Sacramento, CA (PRWEB) March 19, 2012
EVENT: In partnership with the California National Guard and USDVA Northern California Health Care System, the California Department of Veterans Affairs (CalVet) will host a reception to honor the achievements of women in the Armed Forces. California's oldest living woman veteran, 102-year-old Bea Cohen, will be the honored guest and will be presented with an Assembly Resolution by the Honorable Betsy Butler, California State Assembly.
DATE: Tuesday, March 20, 2012
TIME: 2:00 p.m. to 4:00 p.m.
PLACE: The California Museum
1020 O Street
Sacramento, CA 95814
WHO: Peter J. Gravett, CalVet Secretary; Lindsey Wathen, Deputy Secretary for Women Veterans Affairs; the Honorable Betsy Butler, California State Assembly; Col. Sylvia Crockett, California National Guard; Irma Garrett, California National Guard; Bea Cohen, California's oldest living female veteran; CalVet Executive Staff, legislators and veterans.
BACKGROUND: This reception is being held in conjunction with Women's Military History Week, March 19-23, 2012. Women have contributed to the rich military history of our country even before they were officially allowed to serve. The first known American woman soldier was Deborah Sampson of Massachusetts who, disguised as a man, served in the Revolutionary War. Throughout the history of our country, women have consistently shown themselves as dedicated patriots, willing to put their lives on the line in order to protect our nation and the freedoms of our people.
# # #