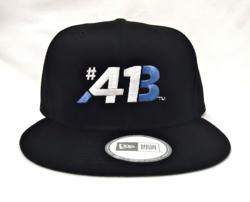 I'm excited to present these products to my fans, who are sharing these experiences with me.
Indianapolis, IN (PRWEB) March 20, 2012
Antoine Bethea, elite safety for the Indianapolis Colts, unveiled signature sportswear apparel for purchase through his website. The line features custom designed t-shirts and caps, embossed with his "AB" monogram, in a range of colors and sizes for fans of all ages. All merchandise sales will benefit the Antoine Bethea Safe Coverage Foundation.
The Antoine Bethea website store also contains a vast collection of game worn memorabilia. Items include autographed pieces from the Colts' Super Bowl win in 2007 and Antoine's Pro Bowl games in 2007 and 2009. Limited memorabilia pieces include Bethea's pink Breast Cancer Awareness game worn cleats and gloves. All of the items, including the signature pieces, are exclusive to http://www.antoinebethea.com.
"I'm excited to present these products to my fans, who are sharing these experiences with me", said Bethea, "Furthermore, I hope that it motivates them to learn more about the work my foundation does in the community."
Bethea is involved in various communities through his Safe Coverage Foundation, which is highlighted on his website. SCF continuously works in Indianapolis, Bethea's hometown of Newport News, VA and Washington, DC where he attended college. Proceeds generated from the store's online sales will support various SCF programs, including an annual college tour, technology grants for incoming college freshman and free youth football camps.
About Antoine Bethea: Bethea is a two-time pro-bowler and has made two trips to the Super Bowl. He has developed a reputation as one of the top tacklers in the NFL and was selected to the 2010 USA Football/NFLPA All-Fundamentals Team.
About Safe Coverage Foundation: The Antoine Bethea Safe Coverage Foundation is committed to providing access and resources for students to achieve their dreams of a higher education. The Safe Coverage Foundation believes that by providing exposure to opportunities, enrichment experiences and the tools needed to succeed, SCF can change communities, one student at a time.