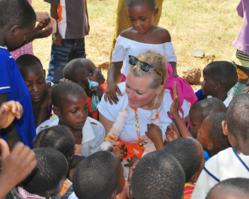 Nantucket, MA (PRWEB) March 20, 2012
With World Water Day fast approaching, Compassion International is pleased to announce that construction on a clean water well in Okolili, Tanzania is currently underway. The water well is being built with funds raised by Peter Beaton fashion designer, Darcy Creech, through the sale of Hydrex Philanthropic watches.
The creator of high end, Peter Beaton apparel had a unique, and burdensome, epiphany after a trip to Tanzania. Nantucket resident and fashionista, Darcy Creech, was heartbroken when she visited Joyce, the impoverished child she sponsors through Compassion International in Tanzania, and saw the desperate need for water in the village.
Four kilometers. That's how far Joyce walked each day to a nearby swamp for water. Sanitation does not exist. In a simple need for water, Darcy saw a women's issue, a health issue, an education issue and an economic issue. Then she made it her issue.
"The residents of Okolili, Tanzania must often consume water that is contaminated with disease, parasites, and feces simply because there is no other option. As a result, they suffer from diarrhea, worms, typhoid, hepatitis, dysentery, cholera, headaches, vomiting, kidney stones, gallstones, depression, hopelessness and more," states Creech. "Access to clean drinking water is a critical human need."
Investing in software, a website and magazine advertisements, Darcy created Hydrex. "Hydra, represents water while Rolex represents status, wealth and the opposite end of impoverished," states Creech. For Darcy's Peter Beaton clientele, she was familiar with the Rolex consumers and saw potential for a different kind of status – a bolder message.
"The message in that is, if you're going to spend $20,000 on a Rolex as a status symbol, then spend the money on something that will really make a difference, and a different statement."
Over Christmas, Darcy raised the necessary money to purchase the well through Compassion International, which will be completed at the end of this year. Her holiday message was simple: "Do you want to give a nicely wrapped present that will end up in a landfill or spend $60 and give people clean water for a lifetime?"
Right before Black Friday, in which Americans spent $52 billion, Darcy had a home emergency. Darcy's sewer pipe broke in her Nantucket home. To the shock of her neighbors, she relied on a port o potty for a few weeks as it was being repaired. By visiting a tiny village in Tanzania, Darcy had gained perspective. Her lack of a water source was a temporary problem with a $15,000 price tag – an amount Joyce's family had never seen, much less made.
"Clean water is such an easy, affordable solution for so many problems," says Creech. "This venture makes people search their hearts for what they want their statement to be."
Media Resources:
Photos of Darcy Creech during her recent trip to Tanzania are available, as well as interview opportunities.
ABOUT COMPASSION INTERNATIONAL:
Compassion International is the world's largest Christian child development organization that permanently releases children from poverty. Founded in 1952, Compassion successfully tackles global poverty one child at a time, serving more than 1 million children in 26 of the world's poorest countries. Recognizing that poverty is more than a lack of money, Compassion works through local churches to holistically address the individual physical, economic, educational and spiritual needs of children—enabling them to thrive, not just survive. Compassion has been awarded ten consecutive, four-star ratings by Charity Navigator, America's largest charity evaluator.
Background on the World Water Crisis
Water, Earth's most precious resource, is at the heart of a daily crisis faced by a billion of the world's most vulnerable people—a crisis that threatens life and destroys livelihoods on a devastating scale. Unlike war and terrorism, the global water crisis does not make media headlines, despite the fact that it claims more lives through disease than any war claims through guns. Unlike natural disasters, it does not rally concerted international action, despite the fact that more people die each year from drinking dirty water than from the world's hurricanes, floods, tsunamis, and earthquakes combined.
This is a crisis that is holding back human progress, consigning large segments of humanity to lives of poverty, vulnerability, and insecurity. In a world of 6 billion people, 884 million of them lack access to a clean, safe water source. Dirty water is the single largest killer in the developing world. The statistics are staggering: every fifteen seconds a child dies from contaminated water. 88% of the world's diseases such as diarrhea, intestinal worms and cholera are caused by unsafe drinking water and inadequate sanitation.
Clean water changes everything. Access to safe, clean water is the most important element in the reduction of under-five mortality. Access to safe, clean water eradicates water borne illnesses in communities suffering repeated bouts of debilitating disease. Access to safe, clean water means the considerable amount of time women and children spend collecting water can be spent on other tasks such as education, economic productivity, and other activities that contribute to the reduction of poverty.
Safe, clean water is foundational to health and providing for a family.
WATER IS A WOMAN'S ISSUE Many women spend 15-20 hours per week collecting water, often walking up to 7 miles in the dry season. It is typically women who collect water, often waiting for long periods, and having to get up very early or go out late at night to get their water; they carry heavy water containers for long distances over uneven terrain. It is women who have to buy, scrounge, or beg for water, particularly when their usual sources run dry. The tragedy is that the water they work so hard to collect is often dirty, polluted, and unsafe to drink. Women trapped in this situation have little time for other activities such as child care, rest, or productive work. The time spent collecting water marginalizes women by reinforcing time-poverty and lowering income.
WATER IS AN EDUCATION ISSUE Water-related diseases cost African children 443 school days each year. Children who suffer from constant water-related illnesses carry the disadvantages into school. Poor health directly reduces cognitive potential and indirectly undermines schooling through absenteeism, attention deficits, and early drop-out.
WATER IS AN ECONOMIC ISSUE In Sub-Saharan Africa alone, 40 billion hours of labor are wasted each year carrying water long distances. Without easy access to safe water, countless hours are spent in water collection and household income is spent on purchasing water and medical treatment for water-related diseases. These factors contribute to keeping people trapped in poverty. The statistics indicate a two-way relationship between extreme poverty and lack of access to safe water. "Water management is a key factor in the global battle to remove the scourge of extreme poverty and to build secure and prosperous lives for hundreds of millions of people in the developing world."- World Health Organization, 2007.