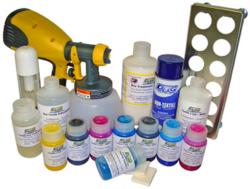 Tampa, FL (PRWEB) March 22, 2012
Impressions Technology, the Australian company that manufactures DTG brand Direct to Garment printers, has awarded Colman and Company in Tampa, Florida the designation of GENUINE DTG Inks dealer. Impressions decided to take the step of certifying inks for use with their equipment due to the increasing number of generic ink products and outlets that have come into the market and how vital the quality of ink is to the performance of the DTG printers.
DTG direct to garment printers offer particularly fast, high resolution printing, even on black material. With the correct ink, you get up to 30% more colors than with other inks. Using incorrect, old or improperly stored inks can lead to anything from duller prints to clogged lines and damaged ink jets.
Colman and Company has been certified because of their proper storage, regular testing and exacting quality control. Being the largest volume garment ink distributor in the world also ensures regular turnover of inventory, which results in the freshest inks for DTG customers.
Contact:
Mark Stephenson, Director of Sales & Marketing
Colman and Company
MStephenson (at) colmanandcompany (dot) com
1-800-891-1094