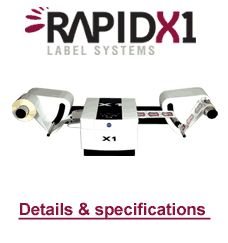 Tampa FL (PRWEB) March 20, 2012
Impression Technology Americas will be showcasing the Rapid Label Systems Memjet powered
Rapid X1 label printer at ISA Orlando 2012. The show begins March 22nd and goes to the 24th at the Orange County Convention Center in Orlando at Booth 1916. Impression Technology Americas is the Master Importer for North, Central and South America. ITA will be there in conjunction with their South American Distributors and Imidia to display the X1. Powered by Memjet, the Rapid X1 prints at speeds up to 60 feet per minute (18 meters per minute) and at a resolution of up to 1600 x 1600 dpi. Impression Technology Americas still has Distributor territories available, so please inquire at http://www.signexpo.org for more show information, or to the contact info listed below.
Impression Technology Americas
Rapid Label Systems
Josiah Gross
5409 S. Westshore Blvd.
Tampa, FL 33611
877-450-1238
813-549-0796
sales(at)rapidlabelsys.com