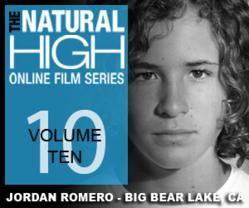 A Natural High is ten times better [than the false high that drugs give you]. It's about motivation to get outside. Drugs and alcohol would take that away.
La Jolla, CA (PRWEB) March 20, 2012
Jordan Romero, teenage mountaineer, has accomplished more feats in his adolescences than some do in their entire lifetime. At the age of 15 years old, Jordan is the youngest mountain climber to successfully reach the seven highest summits of the world's seven continents, setting the world record. Romero is the newest addition to advocate a drug-free lifestyle on NaturalHigh.TV, a series of mini-documentaries showcasing intimate conversations and a rare glimpse into the lives of people who lead fun, successful and exciting careers without the use of drugs.
Romero is the world's youngest climber to conquer the Seven Summits. At age 10, Romero climbed Mountains Kilimanjaro (Africa), Kosciuszko (Australia) and Elbrus (Europe), by age 11, Aconcagua (South America) and Denali (North America), by age 13, Cartenz Pyramid (Oceania) and Mt. Everest (Asia) and finally at the age of 15, Vinson Massif (Antarctica). His unique accomplishments captured the attention of countless media outlets. "Kids at school call me 'Mt. Everest' or 'the kid that climbs," he says jokingly. "I'm just a regular kid, but since climbing Everest it has helped me mature a lot. It made me into the person I am today; I really appreciate my parents, sister and the Big Bear Lake Community for their support."
Sometimes the most unlikely places evoke inspiration: our subconscious thoughts, books, television, our dreams and the people we have met along the way. For Jordan it was simply a mural painted in a hallway of his school that sparked the inspiration to conquer the seven highest mountains in the world. "If you have a goal, whether it's to climb a mountain or play football, just go for it. Write down the steps, get a team and stay patient," Romero advises his young fans. "A Natural High is ten times better [than the false high that drugs give you]. It's about motivation to get outside. Drugs and alcohol would take that away," he says.
Romero believes sharing a Natural High is just as important as claiming one. "To be able to climb mountains with my family has been good. 'Find Your Everest' is about having someone who will support your goals," he says. A solid support network of friends and family is crucial to meeting goals and accomplishing objectives. "Having my Dad and team climb with me is not only important from a safety standpoint, but also keeping a positive and level headed mind set," Romero expresses. While discussing the climbing dangers he encounters such as altitude sickness, avalanches, spontaneous weather, and headaches, Romero states the obvious, "I'm just walking up a big hill." This type of attitude is his way of being self-aware and mentally prepared, allowing him to overcome any obstacle on the mountain and in life.
When he's not beating world records or training, Romero spends time with his friends skiing, mountain biking, at the gym or filling auditoriums with kids eager to learn to find their Natural High with a campaign he started, appropriately named 'Find Your Everest'. His coined phrase 'Find your Everest' is his personal message aimed at young people to encourage them to get outdoors, be healthy and to have fun with family. The 'Find your Everest' tour will kick off on May 1st in Chicago, followed by all the 49 states. Team Jordan will climb to the highest point in every state, meeting kids, families and their communities.
"The feedback from kids every day is a really good feeling. I talk to them over email about setting their goals and pursuing their Natural Highs," expressed Romero. "I PLEDGE to live Naturally High," states Romero, a pledge being made by more than 40,000 young people across the country. Find the Natural High Pledge Campaign at http://www.naturalhigh.org.
View Romero's full interview about his Natural Highs at http://www.naturalhigh.tv.
Natural High, a 501 (c)(3) nonprofit organization. Natural High formally the Sundt Memorial Foundation began 17 years ago after La Jolla businessman Jon Sundt lost both of his brothers to drugs. Its most notable program is the Natural High DVD Series, which is made available free-of-charge to schools.
For more information, please contact Allura Garis at (858) 551-7006 / allura@naturalhigh.org.