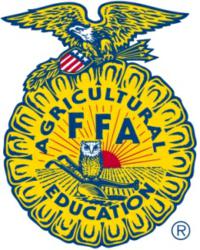 "Relationships are central to growing a career in any field, let alone agriculture. We love how this program emphasizes that while also supporting FFA chapters who work the hardest." - Rob Cooper, National FFA Foundation
Indianapolis, IN (PRWEB) March 21, 2012
(National FFA Organization) – Thousands of FFA members from 856 FFA chapters in 12 states have finished a huge effort to connect with local farmers, and many of those members dedicated to agricultural education are celebrating this week.
One FFA chapter in Alabama, though, may be smiling wider than the rest.
That's because the Lawrence County High School FFA Chapter in Moulton, Ala., will be sending six FFA members and one chapter advisor to Indianapolis for an all-expenses paid trip to October's 85th National FFA Convention & Expo after winning the grand prize of the 2012 FFA Chapter Challenge. Combined with an extra $2,500 designated for other FFA uses like registration fees for the Washington Leadership Conference or chapter supplies (official FFA member jackets, banquet supplies, and more) and the north Alabama FFA chapter is looking at estimated $9,000-worth of prizes for bringing their chapter closer to local farmers.
The FFA Chapter Challenge, a second year National FFA Organization program sponsored by Monsanto that expanded to 12 states in 2012, challenged FFA members to meet farmers in their local communities. After building relationships and learning about the different career aspects of production agriculture, FFA members encouraged the farmers to vote for their chapter online or over the phone.
In total, the Lawrence County High School FFA Chapter connected with 1,110 farmers in their area.
"The mission of FFA goes beyond farming but its heart will always be in creating new generations of leaders who understand agriculture and small communities," said Linda Arnold, Monsanto customer outreach lead. "Monsanto is proud to partner with the National FFA Foundation to help local chapters create that bond with the people who grow our food and build our communities."
Monsanto sponsors the FFA Chapter Challenge as a special project of the National FFA Foundation.
"Relationships are central to growing a career in any field, let alone agriculture. We love how this program emphasizes that while also supporting FFA chapters who work the hardest," said Rob Cooper, executive director of the National FFA Foundation. "We're very grateful of Monsanto's support of this program and truly believe it will be a great tool to grow tomorrow's agriculture leaders."
200 other FFA chapters in the 12 states – Alabama, Arkansas, Georgia, Iowa, Illinois, Indiana, Louisiana, Minnesota, Missouri, Mississippi, Tennessee and Texas – were also notified last week that they won chapter proceeds in the two month competition. The top chapter in each state received a $2,500 FFA certificate, while chapters ranked second to tenth in each state received FFA certificates worth between $1,000 and $2,000. 80 chapters who didn't score in their state's top-10 also won $1,000.
Complete results, state-by-state, are available on the FFA Chapter Challenge website.
Voting for the 2012 FFA Chapter Challenge began Jan. 16 and finished Feb. 29, with over 10,000 votes coming in during the final week of competition.
As the grand prize winner, the Lawrence County High School FFA Chapter will join over 50,000 FFA members, advisors and guests at October's 85th National FFA Convention in Indianapolis for concert-like general sessions featuring dynamic keynote speakers and lauded dignitaries, a massive career-focused trade show, hundreds of national competitions and award presentations, career success tours and more.
About National FFA Organization
The National FFA Organization is a national youth organization of 540,379 student members as part of 7,489 local FFA chapters in all 50 states, Puerto Rico and the Virgin Islands. The FFA mission is to make a positive difference in the lives of students by developing their potential for premier leadership, personal growth and career success through agricultural education. The National FFA Organization operates under a federal charter granted by the 81st United States Congress and it is an integral part of public instruction in agriculture. The U.S. Department of Education provides leadership and helps set direction for FFA as a service to state and local agricultural education programs. For more, visit the National FFA Organization online (http://www.FFA.org), on Facebook, on Twitter and FFA Nation.
About National FFA Foundation
The National FFA Foundation builds partnerships with industry, education, government, other foundations and individuals to secure financial resources that fund FFA activities, recognize member achievements, develop student leaders and support the future of agriculture education. Governed by a 19-member board of trustees comprised of educators, business leaders, individual donors and FFA alumni, the foundation is a separately-registered nonprofit organization. About 82 percent of all sponsorship dollars received by the foundation support FFA members and agricultural education opportunities. For more, visit the National FFA Foundation online.
About Monsanto
Monsanto is a leading global provider of technology-based solutions and agricultural products that improve farm productivity and food quality. Monsanto remains focused on enabling both small-holder and large-scale farmers to produce more from their land while conserving more of our world's natural resources such as water and energy. To learn more about Monsanto and its commitments, visit http://www.monsanto.com. Monsanto is on Twitter and publishes its Beyond the Rows corporate blog at http://www.monsantoblog.com.
-30-