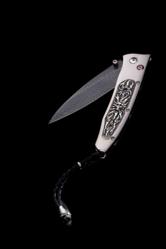 The collaboration with William Henry was a natural choice: I'm a fan of their creations, and every piece has a truly unique personality. - Billy Gibbons
Austin, TX (PRWEB) March 19, 2012
Luxury brand William Henry has taken its long-standing relationship with iconic rocker Billy F. Gibbons to the next level. At a recent launch event, the brand and the ZZ Top guitarist unveiled a specially created titanium and ruby pocketknife named "El Señor," complete with intricately etched skull designs, representing a new and exclusive offering in the world of jewelry for men.
The pocketknife was developed by William Henry founder and designer Matt Conable in partnership with Gibbons to celebrate the launch of Gibbon's lifestyle products under the name BFG Brand. As an owner of multiple William Henry tools and a longtime friend of the brand, Gibbons' design inspiration for this piece was born from his affinity for skulls, while Conable's ability to integrate various materials, metals and gems gave the piece an edgy yet beautiful look. The finished piece, available as a 44-piece limited edition collection, features chisel-carved silver inlays in titanium, rubies and a hand-forged damascus steel blade, bringing together a cool elegance with a rock music vibe.
Conable and Gibbons first met in 1989, when Gibbons personally called the William Henry founder to compliment his work, calling one of his pieces "the most beautiful rendition of a pocketknife I have ever seen in my life." The two have maintained mutual respect and close friendship ever since. The collaboration was feted at Lambert's Downtown BBQ in Austin timed to coincide with the music festival, South by Southwest. As the international music industry turned their attention toward one of the most exciting music scenes today, the city of Austin was a natural choice for Texas-native Gibbons as the location for his brand launch. Guests were treated to musical performances by Mike Flanigin's B3 Trio and Jimmy Vaughan, while marveling at the stunning pocketknife Gibbons and Conable created.
"The collaboration with William Henry was a natural choice: I'm a fan of their creations, and every piece has a truly unique personality. I couldn't think of a better way to celebrate the launch of BFG Brand than with a William Henry pocketknife designed for this moment," says Gibbons.
"We've worked with Billy Gibbons on a number of special projects over the years, but this is the first time we've joined forces to create something for a broader audience. It's a truly exciting collaboration, not only to see Billy's inspiration brought to fruition in one of our pieces, but to be able to celebrate the success of a dear friend in such an impactful way," says Conable.
The 44-piece limited edition "El Señor" pocketknife will be available for purchase exclusively at http://www.whstudio.com.
###
About William Henry
William Henry is an American luxury brand devoted to the vision of designing and creating superlative functional jewelry. Designer and entrepreneur Matt Conable founded the company in 1997 and is now the sole owner. Conable first established the brand creating exclusive and award-winning pocketknives, effectively transforming the archetype of all tools into a superb piece of functional jewelry for men. Today's collections include writing instruments, money clips, and golf tools.
The seamless integration of classic natural materials, precious metals & gemstones, and state-of-the-art alloys is a hallmark of William Henry's work. The brand creates limited editions only, and no two pieces are ever replicas. William Henry's collections are available on its website and through a select network of authorized retailers in the US and abroad. For more info on WH visit http://www.whstudio.com.
Press Contact:
Michele Horner
Phone: 646 654 3405
Email: mhorner(at)nikecomm.com