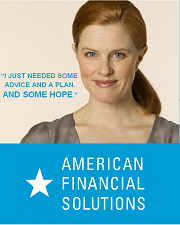 If you don't respond to the summons, the judge will find for the collection agency. You'll lose.
Seattle, WA (PRWEB) March 20, 2012
When a debt collection company calls, many people are immediately placed on the defensive. Collection agents can be aggressive and make it difficult to propose repayment plans that fit within their budget. Collectors typically request payment in full right now and for people who cannot make those payments, the debt collector's next step may be the threat of a lawsuit. This can be a scary and intimidating situation, however people do have rights. Below, American Financial Solutions offers steps for dealing with the threat of a lawsuit.
[1] Know what can happen after a lawsuit. There are three options: garnishments (withholding a portion of your wages), freezing bank accounts or seizing property. Certain income, such as Social Security, cannot be garnished.
[2] Know the statute of limitations in your state that govern how long a creditor has to sue you over a past due debt. Check with your state attorney general's office.
[3] If you are sued, someone associated with the court system or a private process server will present you with the court notice called a summons. The notice tells you where and when the court date will take place, as well as the name of the company bringing the suit against you and the total amount they are suing for.
[4] When you receive a summons there is typically a certain amount of time to respond. If you do not respond in the allotted time, the court can enter a default judgment against you. A default judgment allows the creditor to garnish wages, freeze bank accounts and potentially seize property.
Whether or not you need to file paperwork with the court in order to present your side of the case varies from state-to-state. Try to consult with a consumer law attorney or contact the county clerk where the court paperwork was filed. The clerk cannot offer legal advice, but many attorneys' offer free, 30-minute consultations and can inform you of your rights and what you may stand to lose.
Before there is a judgment in place you may be able to negotiate an agreement to repay the debt and avoid going to court. This may be a better option if you do owe the debt and want to avoid having a judgment on your credit report.
[5] When you go to court be prepared to tell your side of the story. This includes how much you think you owe, past documentation, any mail or cancelled checks showing you attempted to make payments and, if the debt is past the statute of limitations, proof showing the age of the account.
[6] If the collection agency does obtain a judgment against you they may attempt to garnish wages or freeze bank accounts. If your only source of income is Social Security, it is important to tell the collection agency. Social Security can only be garnished in very limited instances.
If your wages can be garnished, the collection agency may contact your employer and request that they withhold a certain portion of your wages to repay your debt. Your employer will contact you with the legal paperwork and begin holding and distributing the funds to the collector. The collector may also contact your bank and request they freeze the money in your account and send it to them.
Dealing with debt collectors can be an overwhelming and stressful situation. It is important to understand the laws of the state you live in and the federal laws under the Fair Debt Collections Practices Act. You can find more information about dealing with debt collection agencies by reading Know Your Rights When Dealing with Debt Collectors - Learn How from American Financial Solutions or by calling a certified credit counseling agency today.
American Financial Solutions (AFS) is a non-profit 501(c)3 financial education and credit counseling agency that helps people find solutions for managing their money and improving their financial lives. Since 1999, AFS has helped individuals across the United States through one-on-one counseling, classes and the use of debt management plans. AFS is a member of the National Foundation for Credit Counseling (NFCC) as well as the Association for Independent Consumer Credit Counseling Agencies (AICCCA). AFS is also accredited by the Council on Accreditation (COA) and has an A+ rating by the Better Business Bureau. Find us and add us on Facebook, Twitter and Google+.