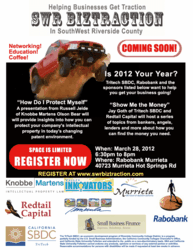 This will be a great event for any aspiring entrepreneur
Temecula, California (PRWEB) March 20, 2012
An educational, informative and fun event is being planned for March 28, 2012 that is designed to help early stage companies in the area learn more about getting traction for their businesses. Called the SWR Biztraction, the event is being held at the Rabobank branch in Murrieta at 40723 Murrieta Hot Springs Road between the 15 and 215 freeways. The program begins at 6:30 pm and will last until about 8 pm.
There will be two presentations along with plenty of time for networking and individual meetings. The first presentation will be made by Russell Jeide, an attorney with Knobbe Martens, about how inventors and companies can protect their intellectual property in today's changing "first to file" patent environment. This is critical for business owners and managers to understand, as the entire U.S. patent system is adapting to new rules over the course of the next year.
The second presentation is named, "Show Me the Money" and will feature a series of short presentations from banks, SBA lenders, SBA representatives, angel investors and investment bankers about the options available to young companies that are seeking outside funding. One of the main challenges facing early stage businesses is lack of resources, and the program is designed to help them choose the best avenues to approach.
There will be a short networking break between the two presentations, and the second presentation is scheduled to end before 7:45 to allow additional networking and individual interviews with the various funding entities on hand. This is the first in what will be a bi-monthly series of workshops and seminars co-sponsored by Tritech SBDC and Rabobank designed to help local startups get traction in today's market. To register, interested companies can visit http://www.swrbiztraction.com.
"There is a lot of demand for information in this area," stated Jay Goth, a senior consultant with Tritech and organizer of the event. "Both Temecula and Murrieta have announced plans for incubators and innovation centers in this area, and we have been working on building a local angel investing network in the valley as well. George Bennett has had a great response to his new group, Valley Innovators, and I feel that this area is about to explode with new businesses and activity. Hopefully this event can help."
The funding presentation should be fast-paced, as each presenter is provided with five minutes in which to explain how they can help startups. Lourdes Raval, VP of Rabobank, will explain what makes a young company bankable. Carla Ulloa of CDC Loans will go over some of the more current SBA financing options. Representatives from the U.S. Small Business Administration and the Tech Coast Angels are scheduled to discuss grant programs and angel funding, and Mr. Goth will provide information on venture capital and private equity and will briefly touch on the hot topic of the day, crowdfunding.
Supporters of the event include Tritech SBDC, Rabobank, Knobbe Martens, the City of Murrieta, the City of Temecula, the SBA, CDC Loans, Redtail Capital and Valley Innovators.
Contact: Jay Goth
951-676-6509