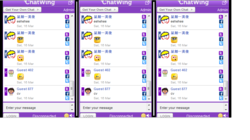 Cambridge, MA (PRWEB) March 25, 2012
People are natural chatters—that is why online chat has become a craze for many years now. This trend will continue as long as the Internet is active. To chat, people are using different types of messenger applications. Chatwing, a powerful chat widget, is one of the few applications that can deliver quality performance.
Since Chatwing is a widget, users can embed it to their blogs or websites. The benefit of this is the fact that blog owners can now communicate with their visitors in real-time. If visitors are confused about the blogger's terms, they can bring up the topic to the Chatwing shoutbox. Embedding is not mandatory since Chatwing is a stand-alone application. In the main website, people can start chatting right away. However, a certain study indicates that there are more advantages for blogs with Chatwing embedded in them.
Embedding Chatwing in a blog is really easy. First, the user must set up an account and type in his domain name. Once registration is complete, widget customization follows. Here, the user can determine how he wants the widget to appear. He can adjust the size and color of the widget. Adding to that, he can rename it to fit the theme of his blog or website.
It has also been proven that website chat is more fun compared to traditional messengers. Blog-hoppers benefit a lot from these, because they will have a chance to add more friends and find followers. A common technique is to leave a comment in the chat box and wait for replies from other visitors or from the owner of the blog.
Visitors can also use their Facebook or Twitter accounts if they want to log in. This simply means that exchange of contact information is relatively easier. In this way, the blog owner can send out friend invitations with ease. Common topics noted in the Chatwing shoutbox are relationships, home businesses, hobbies, fashion, and latest trends.
About Chatwing.com
Chatwing.com has developed live chat software for websites and blogs. The Chatwing.com website offers users the ability to signup and create a customizable live chat feature in 1 minute or less. Users have the ability to customize the size, color, and fonts of the chat product. The ability to chat via social media accounts such as Facebook and Twitter enable Chatwing to offer a personal and unique real-time experience to all sites. Chatwing is 100% free web software.
http://www.chatwing.com