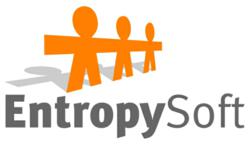 Unstructured data comprises more than 80 percent of corporate data and is doubling every year. We aim to help meet that challenge.
San Francisco, CA (PRWEB) March 20, 2012
EntropySoft, the content integration company, today announced it has officially opened its new United States headquarters in San Francisco. The Financial District office will be home base for the executive, North American sales, business development, support and marketing teams. The company sells its enterprise content integration software and solutions to Fortune 500 companies in the financial, insurance, and pharmaceutical industries, among others. EntropySoft pioneered the enterprise content integration (ECI) segment that enables enterprise content management (ECM) systems and enterprise software products to connect to any unstructured data, regardless of location, through their foundation Connector technology and Content Hub product suites.
"Opening our United States headquarters is yet another milestone for our company which has seen incredible growth in the past seven years and we look forward to expanding our team here," said Nicolas Maquaire, co-founder and CEO of EntropySoft. "We are excited about the opportunity to extend our reach to customers in North America and beyond."
EntropySoft was founded in 2005 by Maquaire and CTO Raphael Jean, two experienced content management software professionals with more than 30 years of R&D and marketing expertise between them. Maquaire and Jean recognized that unstructured data – such as documents, images and video – was growing at an exponential and unsustainable rate. They created EntropySoft to provide a solution both for other software vendors to improve their own products, and large organizations or enterprises. The company's initial OEM sales success resulted in five of the ten largest enterprise software companies using EntropySoft within their own products. The company is also partnered with 30 percent of the eDiscovery market players. Those, in addition to a number of other partnerships in other application areas, result in huge numbers of EntropySoft end-users. In the last year the company has also focused on direct sales to organizations, growing its sales, marketing and support teams to that end.
"Unstructured data now comprises more than 80 percent of all corporate data and it is doubling every two years, making it nearly impossible for companies to manage the increasing number of corporate content silos," said Maquaire. "The resulting content fragmentation is an enormous problem today. Digital proliferation combined with fragmentation is an unstoppable market trend, and certainly one of the biggest challenges companies face. EntropySoft aims to help companies meet this challenge."
EntropySoft pioneered the enterprise content integration segment, essentially enabling the concept of Enterprise Content Management to continue to deliver on its promise through their foundation Connector technology and Content Hub product suites.
About EntropySoft
EntropySoft is a content integration software company that connects people and applications to information. EntropySoft's specialized Connector and Content Hub technologies are used by large organizations and major software vendors alike to quickly and easily search and access information, and to simplify the integration of various enterprise applications with content management products. With quality products and easy integration in application areas including Enterprise Search, Business Process Management, e-discovery, Records Management, Collaboration, and Data Loss Prevention, global leaders including EMC Kazeon, Endeca, HP, IDS Scheer and Symantec have chosen EntropySoft. http://www.entropysoft.net