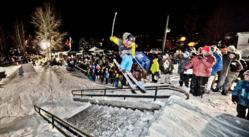 Sun Valley, Idaho (PRWEB) March 20, 2012
SolFest in Sun Valley, Idaho is offering a great way to spend a spring break weekend. Free live music, snowboard and ski events and competitions, as well as specials on lodging and skiing make this the perfect chance to take advantage of the top notch snow conditions which have developed this week in the Sun Valley area.
While the whole weekend is chock full of fun activities, the action really gets going in the after ski hours on Saturday March 24th as Blitzen Trapper will play a free concert on Main Street in downtown Ketchum starting at 5:00 pm in the evening. This a free all ages show by the up and comers out of Portland, Oregon. Expect a big turnout out of snow goers and other guests who are ready for the perfect apre ski party.
Immediately following the concert, the public is invited to step around the corner to the 511 building where snowboard and ski athletes will show their best tricks on a local favorite urban feature. This event is also free to the public. Interested competitors are asked to show up to register at 6:30, competition begins at 8:00 pm.
Sunday brings the Stride, Glide, Ride Team Relay at Dollar Mountain. This all ages just-for-fun competition pits teams in a battle to see who can ride innertubes, nordic ski, and alpine ski or snowboard the fastest in and around the terrain features at Dollar Mountain. Racing begins at 11:00 am.
For more information on SolFest please visit: http:// http://www.visitsunvalley.com/events/solfest
Sun Valley Resort is offering specials on lift tickets (50% off to college students) and a stay and ski free package for everyone. More information on specials is available here: