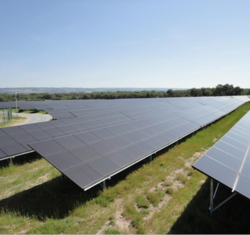 These types of partnerships will allow us to exploit our 2.2 GW pipeline in North and Latin America, Europe and other emerging solar markets . - Paolo Pietrogrande, chairman of Element Power Solar
Aude, France (PRWEB) March 19, 2012
Sonnedix Group, the global solar IPP, is pleased to announce the acquisition from Element Power Solar of a fully operational solar PV plant in St Martin Lalande, near Carcassonne, France.
The 5.4MW ground-mounted facility has been generating electricity since February 2011 and is expected to generate in excess of 6,000 Mwh per year. Element Power Solar will continue to manage plant operations through its Element Power Asset Management,a division which presently manages solar and wind assets across Europe.
Sonnedix is a global solar IPP with solar portfolio spanning Europe, Asia and the Americas.
"We are delighted to be strengthening our French portfolio of already 5 PV power plants with this latest cash-accretive acquisition which reinforces economies of scale across our French portfolio" said Franck Constant, Chairman of Sonnedix. "This acquisition shows our commitment to our selected markets in the long run and to projects of superior quality such as this one which has been developed, built and managed by Element Power Solar. We will continue to add high quality PV assets to our portfolio".
"Element Power Solar is pleased that a leading global solar plant investor such as Sonnedix is recognising the quality of our projects – says Paolo Pietrogrande, Chairman of Element Power Solar. "These types of partnerships will allow us to exploit our 2.2 GW pipeline in North and Latin America, Europe and other emerging solar markets .Transactions like this continue to create value for our shareholders and shows the value creation in the projects we develop and in the strategy of our company".