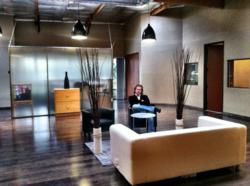 We strive to provide not only a great service to our customers, but also a great place to work for our employees, and we wanted to provide a really great office environment for our employees to come to work to every day
San Diego, CA (PRWEB) March 28, 2012
In March, TicketKick announced the move of their corporate office in San Diego, California, into a creative corporate office space from their smaller Mission Valley location.
TicketKick is an innovative legal service that helps drivers contest speeding tickets, red light tickets, and other common traffic infractions through the mail. TicketKick's team currently consists of eight employees, and they anticipate growing to about 25 employees by 2017 to fill their new office space.
"We strive to provide not only a great service to our customers, but also a great place to work for our employees, and we wanted to provide a really great office environment for our employees to come to work to every day," said Greg Muender, TicketKick's founder and president.
Muender founded the company after receiving three traffic tickets in three weeks himself back in college. After doing some research, he discovered that the California court system allows drivers to contest traffic tickets through the mail. He was able to get two out of three of his tickets dismissed. After helping friends and family with their tickets, he realized that there was a huge need in California for a company that offered a low cost, self help legal service in traffic ticket defense, combined with great customer service and a money back guarantee. With the help of attorneys and his business degree, Muender founded what is today known as TicketKick, that currently helps nearly 600 drivers each month.
About TicketKick®
TicketKick® is a registered and bonded Legal Document Assistant in California, providing self help services in obtaining a ticket dismissal, using a similar service model to companies such as LegalZoom and E*Trade. TicketKick works with traffic attorneys and law school graduates who work together to complete legal documents in a ministerial manner at the specific direction of the customer with the goal of helping the customer obtain a ticket dismissal. About 70% of TicketKick's customers receive a dismissal of their ticket. TicketKick offers an industry exclusive 100% money back guarantee for customers who may be found guilty after using their services.
TicketKick® Customer Service Representatives can be reached at (800) 580-1902 or at questions(at)ticketkick(dot)com. For press inquiries, TicketKick's Vice President can be reached at (619) 569-1001 or at sara(at)ticketkick(dot)com.