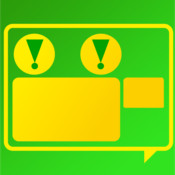 Bangkok, Thailand (PRWEB) March 20, 2012
League of Revolution today is pleased to introduce VDO Notifier 1.0 for iOS, the first video alarm Productivity application where users create scheduled video notifications for personal use or to share with others. Functioning as either an alarm or reminder, VDO Notifier alerts users with a video clip in lieu of the standard text or voice options. Bridging the functionality of an alert system with the creativity and customization of videos, VDO Notifier has taken notification systems to the next level. Users create notification videos that may be used as alarms, reminders, special messages, and more.
With VDO Notifier, users set the exact date and time at which they wish the video notification to be employed. When the alert is sent, users receive a pop-up alert according to their custom alert settings. However, once a user views the alert, instead of the static voice or text alert associated with other alarms, VDO Notifier users receive a dynamic audio/video clip.
Creativity and imagination are the only limits to the versatility of VDO Notifier. Featuring both audio and video, users may create custom videos for personal or professional use. From custom birthday messages to scheduled business team announcements for employees on the road, VDO Notifier broadens the capabilities of scheduled notifications. Customized videos enable creative and personal alarms, notifications, and alerts that can express emotion, depth, and originality not available in static text or audio alerts.
Feature Highlights:

Fast and easy application allows notifications to be scheduled in less than a minute
Video notifications add dynamic audio and video to scheduled alerts
Share notifications with other users
Easily incorporate videos from device video library
Create, edit, and send notifications with ease
Set the exact date and time for VDO Notifier
VDO Notifier allows users to share notification videos with other iPhone, iPod touch, and iPad users, in this helpful application available only in iOS 5. VDO Notifier users connect easily through the Sharing Center tab. When the Connect button is tapped, the device begins looking for other iPads, iPhones, or iPad touch users who have also tapped the Connect button in the application on their device. A list of possible connections is displayed and the user selects the device with which they would like to connect. Users are given the option to accept or decline connection requests.
Once connected, users may send scheduled notifications, creating a unique opportunity to share a scheduled personalized video message. Users may also designate whether a sent notification is editable or not, giving the sender the choice of keeping the video and alert exactly as the sender intended, or allowing modifications by the receiver.
When adding a notification, users tap the "Plus" button in the Notifier list. Users are given the options of setting a title for the notification, the time and date the notification should be sent, a toggle On/Off button, and a specific video to be used in the notification.
Selecting a video, users are given a choice of all videos from the camera roll of their device library. Users may review the video before choosing to use it. Once the video is chosen to be included in a notification, it is compressed and added. Users may use any video from their device video library, or create a new video for each notification. When recording a video, users have the option to view, retake or use the created video. All videos recorded with the VDO Notifier application are also stored in a users device album.
With an easy-to-use graphical interface, users can effortlessly navigate, create, customize and send video notifications. Users can view the status of all notifications in the Notifier list. From this list users have the option of turning notifications on or off. Notifications may also easily be deleted by tapping the trash can icon.
"VDO Notifier has completely redefined the way people use notifications systems," stated League of Revolution's Derrick Edwards. "With customizable audio and video alerts, the sky is the limit to what you can do. Let our innovative technology launch your communications to the next level."
Device Requirements:

iPhone, iPad, or iPod touch
Requires iOS 5.0 or later
1.2 MB
Pricing and Availability:
VDO Notifier 1.0 is $1.99 (USD) and available worldwide exclusively through the App Store in the Productivity category.
VDO Notifier 1.0
http://www.league-of-revolution.com
Purchase and download
http://itunes.apple.com/app/vdo-notifier/id504185490
Screenshot 1
http://a3.mzstatic.com/us/r1000/066/Purple/75/44/61/mzl.ukrtbezi.320x480-75.jpg
Screenshot 2
http://a5.mzstatic.com/us/r1000/111/Purple/6a/a6/4f/mzl.sfmnapzl.320x480-75.jpg
App Icon
http://a1.mzstatic.com/us/r1000/106/Purple/82/56/05/mzm.aosvpnka.175x175-75.jpg
Based in Thailand, Bangkok, League of Revolution is the enterprise of two brothers, Rutchphone and Chanin Pakdeethammasakul, whose goal is to create innovative products that fill a void in the marketplace. In line with this goal, League of Revolution's premier product, VDO Notifier, reinvents the way people use mobile notification systems. Copyright (C) 2012 League of Revolution. All Rights Reserved. Apple, the Apple logo, iPhone, and iPod are registered trademarks of Apple Inc. in the U.S. and/or other countries. Other trademarks and registered trademarks may be the property of their respective owners.