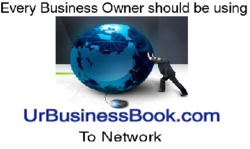 UrBusinessBook.com
your place to reflect all that
your Business has to offer!
Fredericksburg, VA (PRWEB) March 23, 2012
This is how UrBusinessBook.com's story begins:
Businesses today run into high cost to advertise only to target very few people. There has to be a better way. After searching all avenues, there wasn't anything businesses could use to advertise their business without spending over a $1,000.00 dollars to targeting limited people.
This is where business owners get frustrated. Often time's businesses close or businesses are forced to lay off employees, because work has slowed down! Business owners should not allow this to happen. Business owners have the responsibility to their employees and the welfare of their families,
Now the pen and paper ideas started, 4 notebooks later, UrBusinessBook.com was created.
This is ultimately the absolute best thing for Businesses.
Where can a business go to advertise for under $200.00 No where, until now. UrBusinessBook.com offers one year of advertising for $189.99 globally via internet hitting over 30,000 news feeds, 250,000 RSS feeds and bloggers.
Let UrBusinessBook.com speak for itself.
Go and create a business profile at UrBusinessBook.com and see the amount of traffic generated directly to Ur business, see the results first hand with Insights, a traffic monitoring app, on UrBusniessBook.com
New business arrivals to UrBusinessBook.com for the week of 3/12/2012:
"D and L Mechanical Services":
D and L Mechanical Services, your Heating and Air Conditioning Specialist
25 years of experience in the Heating and AC business.
Servicing all brands of heat pumps, air conditioning, gas furnaces and electric furnaces.
Sales on all brands of heating and ac units, Trane, Carrier, Goodman, Ducane, Gibson and Frigidaire just to name a few.
Maintenance contracts on Residential and Commercial properties from routine filter changes to year round cleaning of evaporator coils, drain pans and condensing coils. Just give them a call to schedule your next check up.
This is a heating and air conditioning company that goes above and beyond the call of duty with providing outstanding customer service.
visit at http://UrBusinessBook.com/businessitem/DandLMechanicalServices
"C and T Produce" :
C and T Produce started farming in 1991. Craig grew up on a produce farm. His parents own Rick's & Van's in King George County. As a child and young adult, he learned all the basics of growing vegetables. He even sold at the farmers markets years ago. That's where they met. Tracy was on the way home from college and stopped by the market downtown for some fresh fruit. Craig gave Tracy a couple of cantaloupes and said "Take these sweet things home with you." Well, that was a line right off the farm, but hey, it worked. They got married less than a year later and started their own farm. It would be easy to assume C and T referred to corn and tomatoes. As the story unfolds they used their own initials C-Craig T-Tracy and C&T Produce was open for business. 21 years later C and T Produce has several produce markets in the local area.
Serving Maryland, Virginia and Washington DC.
visit at http://urbusinessbook.com/businessitem/candtproduce
UrBusinessBook.com it's quick, easy and efficient. Sign up, create your business profile and start advertising to the worldwide web for everyone to see what Ur business has to offer.
.