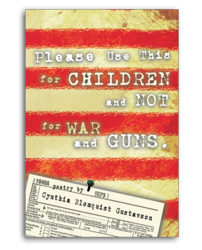 Read this book and live with new courage.
- Kim Stafford
New York, NY (PRWEB) March 20, 2012
Available for a limited time at a discount, award-winning poet Cynthia Blomquist Gustavson's bestselling book of poetry has gained critical acclaim from such poets as John Fox and Kim Stafford, as well as thousands of readers of the print version.
Now in Kindle format, "Please Use This for Children and Not For War and Guns" is an uncommon and gritty yet refined collection of political, social, nature and personal poetry will go far to please young 99 percenters and aging hippies, LGBT activists and liberal Christians.
From "Please Use These Words for Children" an activist poem about Gustavson's simple letter to the IRS along with her family's taxes saying, "Please use this for children, and not for war and guns," to a moving poem written for a homosexual family member, to a poem about a conversation between a midwestern mother and her daughter about long-kept secrets over an empty ice cream bucket filled with lily-of-the-valley slips, these poems capture midwestern stories of love, politics and loss.
"Please Use These Words for Children" is still available in print, and available wherever books are sold and is on discount in the Amazon Kindle format. Click here for the Kindle version
Cynthia Blomquist Gustavson was born in rural Minnesota to a jazz musician and a waitress in 1947. She is a much acclaimed poet and author, the winner of two Indie Excellence Book Awards, a New Millennium Writings Award and finalist for the Rita Dove Poetry Award from the Salem College Center for Women Writers. She is the author of five poetry collections, several poetry workbooks for therapists, and has published in numerous journals.
Gustavson was educated at Gustavus Adolphus College, Boston University, Louisiana State University, United Seminary of the Twin Cities, and Oklahoma State University, and has taught at Northeastern State University in Tahlequah, Oklahoma, and Louisiana State University in Shreveport, Louisiana, and has been an invited lecturer around the country.
In her twenty-seven years as a social worker she has worked in drug prevention, practiced individual and group therapy, worked extensively with caregivers of the chronically ill and developmentally disabled and is now a practicing psychotherapist.
Blooming Twig Books, an independent publisher based in New York City and Tulsa, Oklahoma, publishes award-winning books that matter, from self-help to children's fiction. Contact the publicity department for author bookings, sample and adoption copies.