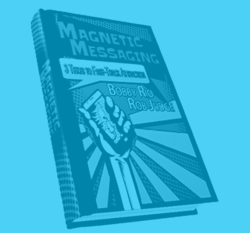 It's awesome," says Judge, "I had this treasure trove of text transcripts, just sitting in my iPhone.
New York, NY (PRWEB) March 23, 2012
Rob Judge, the author of "Magnetic Messaging," an intensive guide that instructs men how to use their phones to attract women and set up dates, had just officially announced the book's release on his blog.
The crux of the program is a 180-page eBook penned by Judge with transcripts from text interactions he's had with dozens of women over the past decade. The eBook, also titled Magnetic Messaging, has already sold over 500 copies in its first week of publication.
"It's awesome," says Judge, "I had this treasure trove of text transcripts, just sitting in my iPhone." Urged by Bobby Rio, the co-author of the program, to transcribe those text conversations and write a explaining the theory behind the conversations, Judge wrote the book in the autumn of 2011.
"Now we're getting emails from men around the world, saying how much the book helped," says Judge. "Websites all over the internet are springing up, titled 'Magnetic Messaging Review' and the response is overwhelmingly positive."
The course also contains several complementary eBooks and video training modules that round out the dynamics behind communicating with women in an attractive way.
The course explains that attractive communication—especially over phone or text—depends on a man's ability to elicit an emotion response in a woman. "This is where most guys go wrong," explains Judge. "As men, we're not accustomed to speaking emotionally. It's like training a right-handed person to write with their left-hand."
The course materials contain several exercises and examples that help develop men's ability to better communicate emotionally. For example, Judge advocates men begin a text conversation by pulling women into a "story" rather than simply saying hi or beginning with pleasantries.
"So many guys think texting is the same as talking in real life," explains Judge. "They say stuff like, 'Hey, what's up' but that's totally unnecessary on text. There's no need to begin a conversation like that."
Instead, Judge offers example texts like, "I just had a pancake crafted by the Hand of God." He claims such texts get women smiling or laughing, which puts them in the mood to flirt.
"Getting a woman laughing is the first step," explains Judge, "It's the foundation on which you can build a playful and flirty text exchange."
Judge has spent the past 5 years teaching men to meet and attract women, both through products and live coaching. His company, Date Hotter Girls, has released several books on meeting and attracting women. Magnetic Messaging is the latest release from Judge.