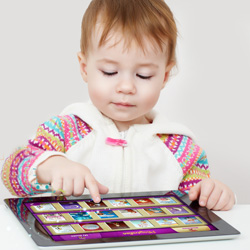 Our goal at PlayTales is to create material for readers and solutions for creators.
New York, NY (PRWEB) March 20, 2012
PlayTales, the easiest place for parents to find interactive picture books for children aged 1 to 8+, PlayTales, today announced an opportunity for illustrators and authors to test the PlayTales Builder, an interactive children's eBook builder. The PlayTales Builder will launch in the coming months as the most comprehensive interactive eBook builder on the market. It's an easy-to-use tool that has the capability to help anyone build high quality, multiplatform interactive books for children.
To be considered for the closed beta invitation-only opportunity, authors and illustrators can sign up for consideration via the PlayTales Builder site. Beta testers chosen for the program will be able to download the builder, create a book and an exclusive opportunity free of charge to be published in the PlayTales Bookstore, in the AppStore for iPhone and iPad, and also in the Android MarketPlace for SD and HD versions earning 70% of profits.
PlayTales developed the PlayTales Builder to give creators a simple-to-use platform for creating high-quality fun, interactive children's eBooks. Once the builder is available to the general public users will pay very low fees for publishing licenses. The license to publish on iOS will cost less than $200 dollars and the same for Android and, if you do both you get a discount. For more information about the PlayTales Builder conditions and offers, please visit the website.
PlayTales will be demoing and discussing PlayTales Builder this week at the Bologna Book Fair in Italy, a yearly event where new talent and trends, innovations and cross-cultural creations in the book industry come together. The PlayTales team will be in Pavilion 29, Stand B18 presenting demos of the builder and opportunities for promotional codes to use the builder free of charge.
About PlayTales
PlayTales is a wholly-owned subsidiary of Genera Interactive, an internationally based multi-platform mobile entertainment and utilities provider with offices in USA, UK, Spain, Romania, and China. Founded in 2010, PlayTales develops and distributes interactive playable storybooks for children within the world's leading children's bookstore app for Smartphones and Tablets. PlayTales is a multiplatform, multinational and multilingual service that targets leading platforms such as Apple, Android, Blackberry Playbook, Nook, Kindle Color, among others. PlayTales was the 2012 Audience Award winner at Mobile World Congress. To contact the PlayTales staff please send an email to info(at)playtales(dot)com or visit our website at http://www.myplaytales.com.