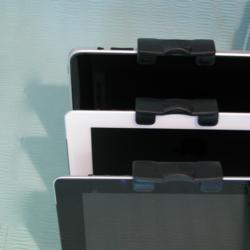 Our open design intentionally solves many of the problems associated with a platform that is continually updated like the iPad line of products from Apple. The MyClip is the perfect kneeboard for the new iPad!
Thousand Oaks, CA (PRWEB) March 21, 2012
MyClip Inc, announced today that the MyClip line of products work just as well on the new iPad as on the iPad 1 and iPad 2. The innovative design of the MyClip allows the flexibility to work with most of the tablet computers on the market today. The flexibility will continue to allow the MyClip to be the used as the leading accessory for the iPad in aviation. By establishing good design principles at the start of our product cycle, many of hurdles that have put in the path of the accessory maker have been overcome.
Pilot users of the MyClip Kneeboard will be able to move up the iPad update ladder without having to purchase a new accessory to take their iPad flying.