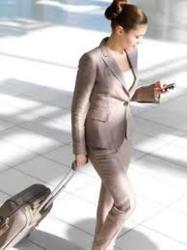 You should always consider your airplane your mobile office; an iPad or small laptop and a Smartphone are all you really need to get work done.
Denver, CO (PRWEB) March 20, 2012
Every busy professional who logs regular business travel time can make productive use of the hours spent in airports, on flights, and in their hotel rooms by adapting new rules of travel time, according to productivity and time management expert Laura Stack. In her new blog,"Productive Travel: Tips for Business Travelers," Stack says that the savviest business travelers never waste a minute, and making good, productive use of travel time doesn't have to be difficult.
"Because the economy that has seen large scale corporate downsizing over the past few years, professionals who can stay productive during traditionally 'lost' hours of travel time will come out ahead," Stack says.
Stack, who travels frequently on business, offers advice on packing (try never to check a bag; even international trips can be made with a carry-on) and making smart use of available technology.
"We have all the technology we need to stay productive almost anywhere, whether it's time spent waiting in an airport, in a hotel room, or in flight," Stack says. "You should always consider your airplane your mobile office; an iPad or small laptop and a Smartphone are all you really need to get work done."
Stack's expert methods of maintaining productivity during the travel downtime offers readers new insight on taking control of one's surroundings and accomplishing tasks despite distractions.
"If you plan ahead and know when your downtime (the hours you spend in the airport or on the plane and during those evenings in the hotel room) is likely to occur, you can determine precisely what you want to accomplish for each period," Stack says.
Stack's blog provides time saving tips for every step of the business trip, from planning ahead to tracking receipts, preparing a contingency plan for emergencies (a checked bag is lost, for instance), and must-haves in the carry-on ensemble. And while there may be plenty of advice articles on packing efficiently, Stack's blog takes readers one step further to incorporate maximum productivity in every step of their travel plans.
"Business travel used to be an exercise in frustration, and getting anything productive done while in transit or parked in a hotel room was challenging," Stack says. "Today, few of us have the luxury of remaining unproductive during long periods of downtime.
"The good news is, by combining logical planning and preparation with the smart use of resources and technology, there's no reason you can't get almost as much done on the road as you can from your office."
To find out more about working and living more productively, visit her blog site, send an Email to Laura@TheProductivityPro.com, or call (303) 471-7401.
About Laura Stack:
Laura Stack is a time management and productivity expert who has been speaking and writing about human potential and peak performance since 1992. She has implemented employee productivity improvement programs at Wal-Mart, Cisco Systems, UBS, Aramark, and Bank of America. Stack presents keynotes and seminars internationally for leaders, entrepreneurs, salespeople, and professional services firms on improving output, lowering stress, and saving time in the workplace.
The president of The Productivity Pro®, Inc., a time management firm specializing in high-stress environments, Stack is the bestselling author of five books: "SuperCompetent" (2010); "The Exhaustion Cure" (2008), "Find More Time" (2006), "Leave the Office Earlier" (2004), and "What to Do When There's Too Much to Do" (scheduled for release in June 2012). The 2011-2012 President of the National Speakers Association and recipient of the Certified Speaking Professional (CSP) designation, Stack has served as a spokesperson for Microsoft, 3M, Xerox, and Office Depot, and is the creator of The Productivity Pro® planner by Day-Timer. Widely regarded as one of the leading experts in the field of employee productivity and workplace issues, Stack has been featured nationally on the CBS Early Show, CNN, and in USA Today and the New York Times.
###