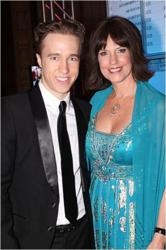 Los Angeles, CA (PRWEB) March 20, 2012
The Unstoppable Foundation hosted their 3rd Annual Gala at the legendary historic Millennium Biltmore Hotel in Los Angeles, where Grammy Award Winner Nelly Furtado Matched the donations dollar for dollar. This special evening of hope and inspiration was designed to demonstrate that it is possible to provide an education to every child on the planet. The goal of this heart-warming event was to build an all girls secondary school in Kenya for 200 young girls. 100% of the proceeds benefit Canada's Craig Kielburger's organization, Free The Children. Craig gave a poignant opening speech as he addressed the audience and shared about Nelly Furtado's inspiration behind her support.
A very happy and elated Founder of the Unstoppable Foundation, Cynthia Kersey was thrilled when she was told that $250,000 was raised that evening to support the girls in Kenya. It was an experiential interactive evening with the "Water Walk". Guests had an opportunity to experience carrying 5-gallon water jugs - 40 lbs each that the girls in Kenya carry up to three to four times daily. This task is crucial to help their families survive day to day.
"The Drum Café", a five-member drum troupe who have performed around the world and for Nelson Mandela, led the guests to each room as they felt the full experience with African tribal drumming.
The evening was hosted by game show host, Pat Finn and there were 350 guests and celebrities in attendance including Dyan Cannon, actress, Q'Orianka Kilcher" (Disney's "Princess Kaiulani"), Spencer Garrett ("Luck", "Game Changer"), Amber Lilly (Radio Disney recording artist), Charlotte Milchard ("Moon in Gemini"), Sandra Vidal ("The Bold & The Beautiful"), Ion Overman ("Ghost Whisperer"), Derrex Brady ("Any Day Now"), Gabriel Jarret ("Pawn", "Frost/Nixon"), Nimi (Producer, "American Girls"), Bernadette Speakes ("Love Jones", "To Sir With Love 11"), Jack Canfield ("Chicken Soup for the Soul"), Marci Shimoff ("The Secret"), Bob Proctor ("The Secret"), Kathy Buckley (comedian), Kyle Cease (comedian), and Wendy Ida (Celebrity Fitness Trainer).
Award-winning actor, Jon Voight made a surprise visit to the red carpet to show his support for the event as he was in the hotel attending a gathering for wounded veterans.
About the Unstoppable Foundation
In 2011, groundbreaking author and founder of the Unstoppable Foundation, Cynthia Kersey, went on an inspiring journey to
Kenya. Kersey was visiting to see the progress of the schools that Unstoppable Foundation played a role in funding in rural Maasai Mara region of Kenya, including an all-girls boarding secondary school, named Kisaruni, or "Land of Peace". With a mission to empower youth through education, the Unstoppable
Foundation has already made tremendous investments in primary level education through its international charitable partner, Free The Children.
In just three years, the Unstoppable Foundation has funded 26 schoolhouses in three African nations and provided partial funding for a secondary school for girls. This vital education will
empower a total of 71,960 children over the next 20 years with the life-long gift of an education and a real future. In addition, the Unstoppable Foundation has given six communities access
to clean, healthcare and income training for the parents so that the education model is sustainable.
Through the partnership of outstanding in-country partners, the Unstoppable Foundation supports the Adopt a Village development model which fosters ownership of the project by community members – partnering with them to provide education and sustainable solutions to help them lift themselves out of poverty. It's not charity but community empowerment and sustainability in the truest sense.
Cynthia Kersey
888-867-8677
Cynthia (at) Unstoppable (dot) net
http://www.UnStoppableFoundation.org
"The H.O.M.E. Foundation Proudly Supports The UnStoppable Foundation"
About The H.O.M.E. Foundation:
The Helping Others Means Everything, or The H.O.M.E. Foundation, is a not-for-profit organization dedicated to helping our Family of Charities. Frank Verdugo, President of The HOME Foundation, wants to help as many worthy charities as possible as they struggle during these tough economic times. Frank Verdugo helps raise funds through luxury dream home raffles, prizes, and high profile celebrity events in Hollywood... "Our mission is to help charities reach their fundraising goals and to bring awareness to their praiseworthy causes." Please visit our Dream Home Raffle at: http://www.HOMEFoundationRaffle.com and http://www.facebook.com/HOMEFoundationRaffle.
# # #