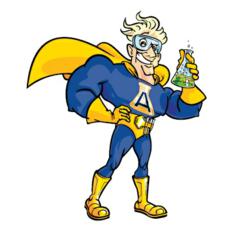 ...our Superheroes who are committed to performing excellent science day in and day out...
San Diego, CA (PRWEB) March 20, 2012
Advantar Laboratories, Inc., a premier contract laboratory provider of Analytical Development, Validation and Formulation Services to the Pharmaceutical and Biopharmaceutical Industries is pleased to announce that it is moving its operations to an expanded business and laboratory facility located in San Diego, CA.
"With the robust growth over the past three years, and in anticipation of continued success and current business trends, we needed to find a larger facility to serve as our new home," said CEO, Richard Kenley, Ph.D. "We have an extremely talented group of scientists. They are our 'Superheroes' who are committed to performing excellent science day in and day out, battling the analytical and formulation development challenges faced by our customers," added Kenley.
The new location is 5451 Oberlin Dr. Suite 100 San Diego CA 92121, an approximately 18,000sqft facility with nearly 14,000sqft of laboratory space dedicated to analytical development/validation, method remediation, pre-formulation/formulation, small-scale clinical packaging and stability. The move will take place starting Thursday, March 15th with lab operation set to resume on Monday, March 26th 2012.
"We anticipate that the new facility will accommodate approximately 70 scientists and support staff. Strategically, this move will allow for continued growth, increased efficiency and overall lower costs for our operations" said Kenley. The larger facility will also allow for the development of new business relationships with a specific emphasis on collaborating with Pre-Clinical and Clinical Research Organizations as well as API and/or Drug Product Manufacturers globally.
An Open House event is scheduled for Wednesday, May 2nd 2012 from 5:30pm to 8:30pm and will include food, refreshments and live jazz entertainment for all attendees. Scheduled lab tours will be provided throughout the evening. Advantar Labs will also be hiring for several positions following the move, so individuals are encouraged to attend with their resumes.
About Advantar Labs
Advantar Labs is a contract testing laboratory and small-scale clinical packaging company. Service offerings include Routine/Compendial Analysis, Methods Development/Validation, Method Remediation, Pre-formulation & Formulation Development, Clinical Trial Supplies & Kitting and ICH Stability Studies for small and large molecule programs including generics and biosimilars, proprietary drugs, biocompatibles and medical devices ranging in phase from Pre-Clinical through to Commercial.
For additional information, visit http://www.advantarlabs.com or contact Brandon Griffin (858) 228-7788.