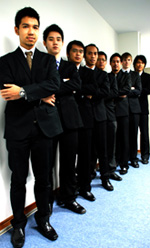 Tila Legal has a reputation for being one of the most reliable and efficient legal networks in Thailand
Bangkok (PRWEB) March 21, 2012
Company registration Thailand has recently been made more accessible to overseas companies. Tila Legal has a reputation for being one of the most reliable and efficient legal networks in Thailand and are offering their services to foreign investors who are eager to take advantage of the changes in Thai company law. Previously, prospective entrepreneurs had to form a total of seven shareholders but recent legislation has reduced this number to three. Another old law which required foreign companies to have four Thai employees in order to receive a work permit has now been changed and only one Thai national is necessary. Tila Legal promise to help overseas investors tackle the legal paperwork that comes with setting up a business in Thailand.
Clearly, the new rules make it far easier for a foreign investor to start up a business and are an indication that the Thai government wishes to encourage further international investment. These major changes in Thailand company registration enable Tila Legal to be more efficient than ever before. Prior to the changes, Tila Legal was one of the fastest legal networks in terms of completing the legal process. They had the ability to complete company registration in Thailand within three weeks. Thanks to the changes in registration law, Tila Legal can now complete the process in as little as two weeks.
Tila Legal would also like to clear up a major misunderstanding regarding company registration in Thailand which often makes overseas investors hesitate before coming to Thailand. Although a company will require two million baht ($60,000 or thereabouts) in capital in order to receive a work permit, this capital can be produced mainly on paper. A company bank account can be opened with a minimum deposit of just 20,000 baht (approximately $600). This is a miniscule investment and the two million baht capital is also far less intimidating than one first imagines.
Tila Legal is comprised of English speaking lawyers and is an eclectic mix of Thai national and international individuals. This organization has vast experience when it comes to dealing with the expat community and has helped hundreds of companies from Australia, United Kingdom, United States and other nations to complete their company registration in Thailand efficiently and easily. Tila Legal enables international companies to fulfill their dream of being part of a rapidly growing economy. In terms of Purchasing Power Parity (PPP), a measurement of living standards, Thailand is one of the top 25 nations in the world, ahead of European countries such as Sweden and Switzerland. Thailand experienced Gross Domestic Product growth of almost 8% in 2010, making it the fastest growing economy in South East Asia.
More information can be found at, http://www.tilalegal.com/thailand-company-registration.php
TEMP INTERNATIONAL LEGAL ASSOCIATION CO., LTD.
93 D.S. Tower 2, Floor G, Soi Sukhumvit 39
Sukhumvit Road, North Klongton, Wattana
Bangkok 10110