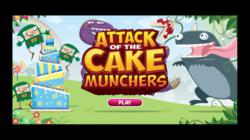 The game was an instant success, achieving over 70,000 plays in its first week as well as driving substantial new traffic to the Katie's Cards website, Facebook and Twitter pages.
Teddington, Middlesex, UK (PRWEB) March 21, 2012
Katie's Cards, the premium animated ecards company are celebrating the successful launch of their first viral game, which has recorded over 70,000 plays since it was launched a week ago. The game, titled "Attack of the Cake Munchers!" was recently added to the gamenet.com website and became an instant success, reaching an incredibly large audience of online gamers and driving substantial new traffic to the Katie's Cards website, Facebook and Twitter pages.
This exciting new venture adds an extra dimension to the Katie's Cards creative portfolio. Businesses looking to raise their profile, launch a new product or drive traffic to their website through a viral marketing campaign, now have the option to commission an addictive viral game to carry their marketing message. The move into online games will extend Katie's Cards business marketing services, at present they offer: bespoke Company ecards, the unique "do-it-yourself" online corporate e card service and microsite development. Companies who are interested in new and innovative viral marketing techniques can turn to the Katie's Cards team to create exciting and addictive viral games that will generate brand awareness, drive more traffic to their website and enhance brand awareness.
The "Attack of the Cake Munchers!" game was originally developed as a birthday e card game for Katie's Cards subscribers to send via the ecard website. It was soon spotted by an online games expert from gamenet.com who asked for it to be developed into a longer, multi level game to fit the criteria for inclusion on their website. Free online games are a powerful viral marketing tool used by many large multi-national corporations as part of their advertising and marketing strategy. Katie's Cards will be looking to build on the success of "Cake Munchers" to attract commissions from commercial clients .
This development is part of the plan to offer more custom-built services to corporate clients during 2012, expanding the corporate side of operations. Recent commissions include a micro site in French and English for international shipping company Purolator (en.purolator-ecards.com and fr.purolator-ecards.com) and a website for a large publicly funded organization in Scotland. Both projects involved the creation of small ecard websites offering a range of existing and specially designed custom-made business e cards that can be accessed and sent by managers, staff and customers.
The fast growth of online marketing and advertising has led to a demand for high quality, creative and engaging solutions. Katie's Cards now offers a wide spectrum of digital marketing solutions to organizations wanting to connect with customers and staff online, every shrewd marketer will need to include them in their plans for 2012.
Katie's Cards create smart, high quality e cards and offer a range of solutions to fit all budgets. The cards deliver low-cost, quick and environmentally friendly solutions for businesses of all sizes and are an original and entertaining way to communicate with customers. More information about the service can be found at katiescards.com/company/
Copyright information: This article is free for reproduction but must be reproduced in its entirety, including live links & this copyright statement must be included. Visit katiescards.com/company for more services!