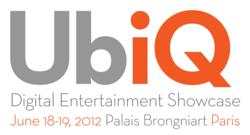 "I feel very fortunate to be a speaker at UbiQ Paris because there is simply no other event like it. This is exactly what the international digital entertainment industry needs right now." - Gwen Bethel Riley, Head of Music Business Affairs, DISNEY MOBILE
Paris (PRWEB) March 21, 2012
With three months to go before UbiQ - the first international digital entertainment showcase, conference and exhibition - opens its doors for its inaugural edition, CEO Gwenael Flatres announced today the participation of digital heavyweights such as Disney Mobile US, Viacom International Media Networks, Samsung Electronics, Endemol, Deezer, Ooyala, HTC, Orange, GloboTV and BBC Worldwide at the June event in Paris.
The diversity and quality of the speakers and participants – over 90 companies participating to date, 75% are from outside of the host country France - UbiQ is proving that its original concept is both timely and unique. Bringing together industry leaders from across the international digital entertainment spectrum - television, music, radio, games, mobile apps, branded entertainment and publishers to share experience, the recurrent theme of UbiQ. The two-day show will present speakers that develop UbiQ's four major conference angles on how to Capture, Engage, Monetize and Measure ROI.
Gwen Bethel Riley, Head of Music Business Affairs at Disney Mobile US commented « I feel very fortunate to be a speaker at UbiQ Paris because there is simply no other event like it. This is exactly what the international digital entertainment industry needs right now ».
The latest round of speakers to have confirmed is impressive. After the opening keynote Randi Zuckerberg, former Marketing Director of Facebook and CEO of RtoZ Media, Doug Scott, President of Ogilvy Entertainment and Louis-Pierre Pharand, Head of Transmedia at Ubisoft, Bruce Kirkland from Tsunami Entertainment and Shahi Ghanem from BitTorrent, UbiQ is delighted to announce the confirmation of the following speakers :

Philip Bourchier O'Ferrall, SVP Digital VIACOM INTERNATIONAL MEDIA NETWORKS
Gwen Bethel Riley, Head of Music Business Affairs, DISNEY MOBILE
Sean Knapp, CEO, OOYALA
Gary Woolf, VP for Business Development and Digital, BBC Worldwide
Jean-Francois RODRIGUEZ, Head of Gaming and Transmedia, ORANGE
Vassilis Seferidis, Director, European Business Development, SAMSUNG ELECTRONICS EUROPE
Shahi Ghanem, Chief Strategy Officer / Executive VP, BITTORRENT
Cédric Mangaud, VP of Value Added Services, HTC
Mark Ghuneim, CEO, TRENDRR
Roberto Schmidt, Head of Product Development, GLOBO TV
Nick North, Head of Innovation, Audience Measurement, GfK
Olivier Gers, CEO, ENDEMOL WORLDWIDE BRANDS
Damien Marchi, VP Production, FREMANTLEMEDIA
Marco Ferrari, CEO, ZODIAK ACTIVE
Richard Clarke Managing Editor, ARSENAL MEDIA GROUP
Ammar Bakkar, CEO , YES2DIGITAL
Paul Kontonis, VP / Group Director of Brand Content, DIGITAS - THE THIRD ACT
Nicolas Gaume, CEO, MIMESIS REPUBLIC
Raphael Aphlalo, Co-Founder, MY LOVE AFFAIR
Cathy Guetta, Co-Founder, MY LOVE AFFAIR
Allan McLennan, President, THE PADEM GROUP
David Amselem, Director Product Development, TVTAK
Edouard Lambelet, Founder, PAPER.LI
Alicia Navarro, Founder, SKIMLINKS
Alexandre Saboundjian, CEO, RADIONOMY
Brandon White, Marketing Director and Business Development, FUNIMATION
Eamonn Carey, EMEA Director, KIIP. ME
Jérôme Bichot, Business Development Director, WILDFIRE
Pasa Mustafa, Managing Director, EAST LONDON PRODUCTIONS
With 3700m2 of exhibition space available, UbiQ Paris is the place to be to :
Source new content and service providers from all over the world
Develop new distribution partnerships and generate new revenue streams
Discover new content and application production capacities
Distribute interactive services content and solutions
*******
UbiQ – Share Experience
Facebook : http://www.facebook.com/pages/UbiQ-2012/209870299065760
Twitter : http://twitter.com/#!/UbiQParis
LinkedIn : http://www.linkedin.com/groups?home=&gid=2884806&trk=anet_ug_hm
Contact UbiQ Events SAS :
Gwénael FLATRES : gwen(at)ubiq-events(dot)com / + 33 6 16 20 03 31
Press Contacts:
France : AL'X Communication
Véronique LOQUET - vloquet(at)alx-communication(dot)com + 33 6 68 42 79 68
Lucie DUCOS lducos(at)alx-communication(dot)com + 33 7 61 99 79 68
International : LCB Media & Marketing
Laura LEMENS BOY - lauraboy(at)wanadoo(dot)fr + 33 6 22 513 713
About UbiQ :
UbiQ is the first international event (exhibition and showcase) dedicated to content and applications for digital entertainment (TV programmes, music, games, interactive apps, books) destined for all digital broadcast platforms (television, internet, mobile...)
The B2B event will take place on June 18-19th 2012 at the Palais Brogniart in Paris. Over 2000 professionals from all over the world will be attending to present, discover and share their experience through practical case studies demonstrating winning strategies and original ideas for content, applications, advertisements and branded entertainment from all areas (TV , internet, mobile , video games…)
Gold Conference Sponsor :
HORYZON MEDIA
Supporting & Media Partners:
PALAIS BRONGNIART – FUTURE EN SEINE – INA - THE HOLLYWOOD REPORTER – IAB - ZDNET - CNET - C21MEDIA - DEVELOP - MCV – FRENCHWEB – VIDEO AGE – DIGITAL TV Europe - TBI - SNPTV - ALX COMMUNICATION - JUMPWIRE MEDIA – THE STRATEGY WEB - BUREAU EXPORT - TIGA – SNJV - PETIT WEB - THE NEXT WEB - WORLDCRUNCH - SATELLINET - SOCIAL MEDIA CLUB – EDITION MULTIMEDIA - ELECTRON LIBRE - JOURNAL DE LA VIDEO – BEST WESTERN - CHINA CONNECT – AGORA MEDIA - THOSE IN MEDIA - GAMDEV - GESTE - SNPTV - LA TELEVISION CONNECTEE - DIGITAL TV PROFESSIONALS - MAIRIE DE PARIS - LA FONDERIE - DAILYMOTION