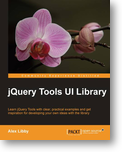 Birmingham, UK (PRWEB) March 20, 2012
Packt recently released a new book on jQuery Tools, the first and only book available in market on jQuery Tools. Titled jQuery Tools UI Library, the book features clear and practical projects that can be used in websites today, with explanation on useful tools such as overlay, scrollable, tabs and jQuery tooltip. It provides tips and comments on how to alter elements to personalize functionalities as per the design of website.
jQuery Tools UI Library is a fast paced book which helps readers explore different functionalities in the compact yet powerful jQuery Tools using plenty of practical examples. The book is laid out with different projects on each tool in the Library, which can be copied from the book or downloaded from Packt's website.
The book follows an easy step-by-step instruction approach to help readers navigate smoothly through the Library, and implement complex functionalities on their website with only a few lines of code. Readers are introduced with a short explanation on the origins of jQuery Tools, followed by best practices that should be used alongside guidance on its API and event capabilities.
Developers will learn how to use jQuery Tools' Overlay UI Tools to produce exciting websites using overlays, tabs, scrollables and tooltips. They will also learn how to develop personalized versions of each function using the examples provided in this book.
The book is complemented with a PDF, which is a guide to using jQuery Tools within content management systems such as Wordpress.
jQuery Tools UI Library is now available with Packt in print and popular e-book formats. The book is a must have for developers with prior jQuery knowledge who would like to use jQuery tools in their projects. Detailed information along with the table of contents and accompanying PDF chapter is available on the book's web-page at Packt.