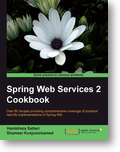 Birmingham, UK (PRWEB) March 25, 2012
Packt recently published its new book, Spring Web Services 2 Cookbook, earlier this month. With over 60 effective recipes in its kettle, the book provides extended coverage of real life practical implementations of Spring Web-Services.
The book is a comprehensive guide covering all the key features of Spring-WS 2. The book provides professional expertise on topics ranging from setting up a contract-first Web-Service, and creating client for SOAP Web-Services to serialization, monitoring, testing and security using Spring-WS.
Spring Web Services 2 Cookbook hosts a wide variety of recipes featuring important topics used in real-world applications. It begins with setting up a SOAP Web-Services using various protocols such as JMS, HTTP, XMPP, and the Email. The book then goes on to explain features such as implementing Web-Service's Endpoint using technologies such as DOM, JDOM, XPATH, and Marshaller; creating and monitoring automated testing using tools such as soapUI and TCPMon; Marshalling and Un-Marshalling using Jaxb2, XMLbeans, Xstream and other technologies.
Readers also learn techniques such as encryption, decryption, digital signature authentication and authorization. They will understand how to implement a Web-Service using Spring-Remoting on RMI, Hessian/Burlap, JAX-WS, JMS technologies and a Web-Service using Apache CXF on JAXWS front-end. The book also guides them on developing REST Web-Service server and client using Spring RESTful Support.
Table of contents:
Chapter 1: Building SOAP Web-Services
Chapter 2: Building Clients for SOAP Web-Services
Chapter 3: Testing and Monitoring Web-Services
Chapter 4: Exception/SOAP Fault Handling
Chapter 5: Logging and Tracing of SOAP Messages
Chapter 6: Marshalling and Object-XML Mapping (OXM)
Chapter 7: Securing SOAP Web-Services using XWSS Library
Chapter 8: Securing SOAP Web-Services using WSS4J Library
Chapter 9: RESTful Web-Services
Chapter 10: Spring Remoting
This cookbook is apt for Java/J2EE developers, and will serve as a reference guide for both beginners and those already familiar with Web-Services. For more information, please visit the book's web-page.