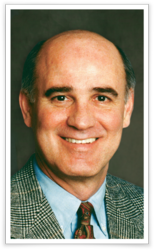 Indianapolis (PRWEB) March 30, 2012
Internationally renowned science educator and long-term Pearson author, Mike Padilla, Ph.D., today received the National Science Teachers Association's (NSTA) highest honor, the Robert. H. Carleton Award, for his outstanding contributions to and leadership in science education. A Pearson science author for nearly 15 years, Padilla most recently was a key contributor to the team that developed the company's new inquiry-based, hands-on program for K-8 students, Interactive Science.
"We truly count Mike as a shining star among our authors. He brings deep knowledge of science content, an understanding of the instructional strategies that personalize learning for today's students and an inspirational leadership style to every project he works on," said Pearson's Senior Vice President for Science Lynda Cloud. "We are particularly honored to count Mike as one of our top experts on science education and congratulate him on this well-deserved, prestigious recognition for his tremendous contributions."
Padilla is Director of the Eugene T. Moore School of Education at Clemson University. A former middle school teacher and a leader in middle school science education, he has served as NSTA president and as a contributor to the National Science Education Standards. He is well known to the international science education community and engaged with Japanese scholars on cooperative research projects on science education in their country.
In addition to serving on the team that authored the award-winning Interactive Science, Padilla was lead author of Pearson's Prentice Hall Science Explorer Science Explorer series, the nation's leading middle school science program.
About Pearson
Pearson, the world's leading learning company, has as its mission to work side-by-side with states, districts, teachers, students and parents to ensure that every child is prepared for college and career (NYSE: PSO). For more information, go to http://www.pearsonschool.com.
Contact:
Kate.miller(at)pearson(dot)com -1.800.745.8489