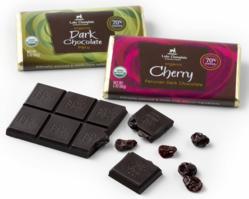 Burlington, VT (PRWEB) March 22, 2012
Dark chocolate lovers rejoice! Lake Champlain Chocolates (LCC) has introduced two new single origin chocolate bars: the Organic 70% Peruvian Dark Chocolate bar and the Organic 70% Peruvian Dark Cherry Chocolate bar. Available exclusively in Whole Foods Markets through June 30th, 2012, the 3oz. bars are made with organic, single-origin cocoa that is grown sustainably on plantations in the Apurimac Valley of Peru. These two new bars will be added to Lake Champlain Chocolates' line of organic chocolate bars in July 2012.
Both bars feature a custom recipe, creating a deep, complex, dark organic chocolate characterized by an exceptionally smooth texture, with forward juicy berry notes, slight sourness, and an earthy quality. The Dark Cherry bar is made with organic, tart dried cherries from Northern Michigan, the perfect accompaniment to the fruitiness already present in the 70% Peruvian dark chocolate, adding some tangy sweetness to the flavor. Madagascar Bourbon vanilla beans, considered the finest and most balanced vanilla bean available, helps meld the complex elements of the Dark Cherry bar together.
Peru is a quickly developing source of exceptional quality, single origin cocoa. The remote Apurimac Valley of Peru is currently experiencing an agricultural renewal, recovering its lost heritage of cocoa growing through collaboration with producers and farm support. As a result of this partnership with producers, these small, sustainable growers are protected from volatile market risk.
"We developed these two bars with the Whole Foods customer in mind. The classic flavor combination, the antioxidant benefits of dark chocolate and cherries along with consumers' desires to indulge while making a thoughtful purchase fits with the future trends we expect to see with chocolate bar sales," says Allyson Myers, Director of Sales for LCC. "As the first high-cocoa content bar in our Organic line, we're proud to be able to provide the transparency consumers are looking for in their chocolate. In addition, all ingredients are certified organic and the packaging materials are printed locally in Vermont."
"We're thrilled to add these two new bars from Lake Champlain Chocolates," says Steven Pecenkovic, Southern Pacific Regional Bakery Coordinator for Whole Foods Market. "As our largest chocolate supplier, Lake Champlain Chocolates continues to hit the mark in terms of what our customers are looking for: high-quality organic certified products that satisfy and delight coupled with a commitment to sustainable agriculture both locally and throughout the world."
Those who wish to indulge in these two exceptional bars can currently find them exclusively in Whole Foods Markets in the Northeast, Rocky Mountain, Southern Pacific, Florida, and Northern CA regions. Suggested retail price for the bars is $4.59.
About Lake Champlain Chocolates:
Preservative-free and Kosher-certified, Lake Champlain Chocolates are crafted in small batches from the finest quality chocolate and select natural ingredients including local Vermont cream, sweet butter, maple syrup and honey. The company offers a variety of gifts including super-premium chocolate covered fruits and nuts, chocolate truffles, chocolate gift baskets and its ever-popular Chocolate of the Month Club. Lake Champlain Chocolates are available online, by calling toll-free at 800-465-5909, as corporate gifts & wedding favors, at three company-owned retail stores in Vermont and nationwide at specialty food & gift stores and upscale hotels & inns.