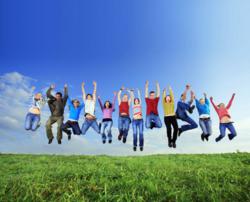 London, UK (PRWEB UK) 22 March 2012
As part of its global expansion strategy, Motiv8 unveils its first foreign language product, in Poland. "Poland represents the first step on the road to many future international language versions," said Dan Gray, Director at Motiv8 Solutions parent company in the UK. "It wasn't just a case of simply translating the language used in the English version of the software. We also had to make sure that the scientific integrity of the offering was preserved."
Seweryn Drozdz, Director at Human Works the Polish Distributor of Motiv8 said, "This is a great statement of intent and commitment to the Polish market by the guys in the UK. Using the English version in our 500 seat sister company has driven some truly startling performance improvement and the majority of our employees don't even speak English."
Gray went further by adding, "This is just the beginning. We are committing to the German market and have already commissioned translation activity so that we can launch a German version in Quarter 2. Bulgaria will follow shortly afterwards and other countries as Distributors are identified."
Motiv8 Solutions are experts in the field of employee motivation. Their unique, cloud-based Motiv8 V2 Pro Solution, aimed at call centre environments worldwide, improves the motivation, competency and inclusion of employees, resulting in greater engagement, capability and commitment. The outcome of this is more sales, lower costs and a leap in employee and customer satisfaction.
Motiv8 Solutions' low-cost application enables corporations to easily, instantly and consistently recognise and reward great performance from their contact centre employees. In addition Motiv8 provides a unique, unthreatening and on–the-job method of assessing employee competency and knowledge, and subsequently addressing any knowledge gaps, in a way that is hugely popular with employees and employers.
Motiv8 is readily deployed, intuitive, low cost and completely unique. For some examples of how Motiv8 has been put to use for considerable economic benefit visit http://www.motiv8solutions.com/casestudies.html
Contact Motiv8 or visit http://www.motiv8solutions.com for more information on how to improve work-related knowledge, motivation levels, and performance at help desks and contact centres.