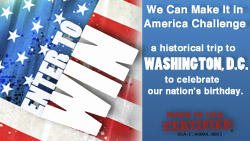 There's always people that need our products. They need our products to hold their world together.
Hot Springs, Arkansas (PRWEB) March 21, 2012
Alliance Rubber Co. in Hot Springs is the largest domestic manufacturer of rubber bands and rubber band products in the U.S. Founded in 1923, Alliance has been in Hot Springs since 1944. It employs about 150 workers and its products — well, there are a lot of them, as many as 2,200 products.
To say Alliance has "competitive pressures" is an understatement. The company constantly battles fluctuating prices of its raw materials – primarily rubber — and with world wage prices offering cheaper labor abroad, company President Bonnie Swayze knows that payroll is an area that she could save money if she outsourced; it's just not an option. She'd rather win with innovation.
"The way we've been able to stay ahead of the game against import competition — because in the U.S. there's are about 55 competitors that manufacture bands in Thailand and China for approximately $1.50 an hour — we have to be ahead of our game to compete," said Swayze.
Alliance has developed a number of new products, including a scented wristband that works as a study aid, an "erasable" bracelet, and the world's first full-color printed image wristbands.
In the spirit of self-reliance, Alliance decided early last year that it would embark on an effort to create manufacturing jobs in the U.S. through a "We Can Make It In America" challenge. The company created a web site with a contest and is encouraging the hiring of 1 million workers.
Swayze says while Alliance doesn't offer the cheapest products on the market, her company and its workers have a different value proposition.
"There's always people that need our products. They need our products to hold their world together," Swayze said. "We're not always the cheapest in price per pound for our rubber bands, but we are most of the time the best value."
About Alliance Rubber Company
Since 1923, Alliance Rubber Company has been dedicated to Holding Your World Together. The company has grown into a global leader with over 2,100 skus of mailing, shipping, office and packaging products. Under the current leadership of Bonnie Swayze, president, Alliance continues its long history of innovation. Pioneering the women's entrance into the boardroom, Bonnie was the first female board member of the Wholesale Stationers Association, and has served on the WBENC board and other HUB organizations.
SOURCE: Alliance Rubber Company
Contact:
Jason Risner
Marketing Manager
Alliance Rubber
501 262 8162
jrisner (at) alliance-rubber (dot) com