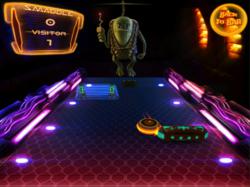 AstroPlasm is the ultimate air hockey style game for the iPad that literally transports users to another dimension.
Cupertino, CA (PRWEB) March 20, 2012
In a neon lit cafe far, far, away virtual competitors from around the galaxy are watching the tension build as they compete on the air puck tables - air hockey in an alternate dimension - to determine the ultimate player. Gamers can roam the cafe and challenge individual inhabitants or match-up with a friend in multiplayer mode in this fast paced game of co-ordination and skill.
Taking to the table from a 3D first person perspective, gamers must use the iPad touch screen to hold their virtual paddle and serve, hit and defend the puck across the table. Points are scored whenever a player succeeds in getting the puck past their opponents paddle, the aim of the game being to score the most points to win the match. In-game opponents offer a variety of artificial intelligence, playing styles and personalities, often interacting with outrageous verbal comments during a match.
To become the AstroPlasm champion players must beat all of these characters in one of four different game modes; regular, twin-puck, magnetron and survivor - featuring exploding pucks, magnetized laser barriers and ever-increasing puck speeds respectively. Upgrades can be obtained from the in-game bar, providing users with faster pucks and alternative paddles offering greater curve, shot angle and precision, while match statistics are recorded to give users a perspective on the strength and weaknesses of their challenges so far.
Rated 12+ AstroPlasm offers an addictive, fast paced and tension filled challenge for all iPad gamers. An intuitive tutorial ensures a pick-up-and-play experience while the wealth of game modes, multiplayer and charmingly quirky - yet highly polished - game environment ensure a long lasting challenge.
"AstroPlasm is the ultimate air hockey style game for the iPad that literally transports users to another dimension." commented Paul Wilkinson of Subspark Entertainment. "Our aim was to create an in-game environment and opponents with real personality, and when engaged in a match you really want to beat these guys."
AstroPlasm, experience air hockey like you've never before. Jump into another dimension and climb your way to championhood with wild and whacky personalities and an unforgettable soundtrack.
Available now in the App Store for iPad at: http://itunes.apple.com/app/astroplasm/id496137416?ls=1&mt=8.
For more information or media inquiries, contact Mark Johnson of appshout! on behalf of Subspark Entertainment at +1 408 757 0086 or press(at)myappshout(dot)com.
About Subspark Entertainment
Subspark Entertainment is a self-published Australian games developer. Founded by Paul Wilkinson, a ten year computer graphics and visual fx artist, Subspark is marked by practical goals and many years of hard work, patience and dedication. Subspark Entertainment was born from a lifelong ambition to create interactive experiences that bring a big smile to people's faces.
Subspark continues to grow ever more expansive, inventive and popular!
More Information: http://www.subspark.com/