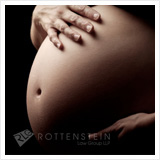 The Rottenstein Law Group, LLP
New York, NY (PRWEB) March 21, 2012
The study that produced this finding was published online on March 12, 2012, in the Archives of General Psychiatry. Using ultrasound equipment, the study's researchers tracked the development of the fetuses of more than 7,600 pregnant women, all of whom fell into one of three groups: (1) not-depressed, (2) depressed and taking SSRIs during pregnancy, or (3) depressed but not taking SSRIs (i.e., suffering from untreated depression).
The study was also one of the first to track the effect of SSRIs on fetal head development, an important touchstone since small head size in infants has been linked to behavioral problems and poor cognitive performance later in life. The fetuses of the study subjects who took SSRIs to treat their depression were significantly more likely to have delayed head growth than the fetuses of their not-depressed counterparts. The fetuses of women with untreated depression were significantly more likely to have reduced head growth, too, however.
"The researchers note that although treating depression during pregnancy is highly important, 'high-quality studies with good controls' about the effect of SSRIs on an unborn child's health 'are sparse,'" writes a journalist in a Medscape.com article describing the study's results.
The Medscape.com journalist further quotes the study's researchers: "'Thus, trying to balance the possible negative consequences of untreated maternal depression with the unknown potential negative consequences of SSRIs remains an open debate,' they write."
RLG's Zoloft Lawsuit Information Center, at http://www.zoloftsertralinebirthdefects.com, has features that allow for easy sharing, including links for automatic posting on Facebook and Twitter, specifically to enable visitors to spread the word about Zoloft and the dangers of the drug. The Rottenstein Law Group, a personal injury firm, encourages visitors to link to its sites from their own blogs and websites to spread information about defective medical products and dangerous drugs.
About THE ROTTENSTEIN LAW GROUP
The Rottenstein Law Group is a New York-based law firm that represents clients in prescription drug lawsuits. The firm was founded by Rochelle Rottenstein, who has more than two decades of experience as a lawyer, to represent clients hurt by defective consumer products. http://www.rotlaw.com
Contact:
The Rottenstein Law Group, LLP
Rochelle Rottenstein, Esq.
1259 Veeder Drive
Hewlett NY 11557
(212) 933-9500 (office phone)
(212) 933-9980 (facsimile)
rochelle(at)rotlaw(dot)com
http://www.rotlaw.com
###