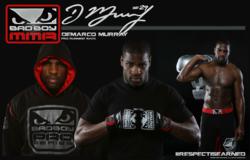 I've already been able to train and learn from MMA stars such as Demian Maia and Chris Weidman. It's really a dream come true.
San Diego, California (PRWEB) March 22, 2012
BAD BOY Brands Intl Inc, a leading action sports and mixed martial arts lifestyle brand, announced today the multi-year sponsorship of Dallas Cowboys Rookie running back sensation DeMarco Murray.
High Resolution photography is available here.
Murray is a longtime fan and practitioner of mixed martial arts (MMA). "Like many professional athletes, I realized that MMA training is the best way to stay in shape during the NFL off-season" said Murray. "I've always been a fan of MMA and respected the world-class athletes associated with the sport. I began training MMA a few years ago, and quickly realized the increases in my strength, quickness, and agility."
"We are extremely honored to have DeMarco as a member of the BAD BOY team" commented Robin Offner, CEO of BAD BOY. "DeMarco had previously trained with BAD BOY athlete and UFC star Demian Maia. We were made aware that DeMarco is a fan of BAD BOY and uses our products when he trains MMA. It seemed only natural to make him an official part of our team of world class athletes."
DeMarco Murray rose to prominence as a Freshman All-American running back for the Oklahoma Sooners. He holds University of Oklahoma career records for All-Time Leader in Points Scored (390), All-Time Leader in Touchdowns (65), and All-Time Leader in All Purpose Yards (6,718). In his rookie season in the NFL he broke the Dallas Cowboys franchise record for Single Game Rushing Yards (253) and was nominated as Offensive Rookie of the Year. Murray is represented by The Legacy Agency in NYC for Marketing and off the field endeavors.
"I'm very excited to be a part of the BAD BOY team" said Murray. "I'm been a fan of MMA since the early days of the sport, and the BAD BOY brand and those iconic eyes have been there since the beginning. In just a short amount of time with BAD BOY, I've already been able to train and learn from MMA stars such as Demian Maia and Chris Weidman. It's really a dream come true."
About BAD BOY:
BAD BOY is a pioneer in the alternative sports apparel industry. Founded in 1982 in San Diego, CA, BAD BOY quickly built a name for itself by sponsoring athletes and events in surf, skateboarding, and motocross. By the early 90's, BAD BOY had expanded into the sport of martial arts via sponsorship of world champion Brazilian Jiu Jitsu black belt Rickson Gracie, MMA champions such as Vitor Belfort and Frank Shamrock, and many others. BAD BOY continues its tradition of supporting leading action and combat sport athletes around the world. Today, BAD BOY distributes innovative, premium products on 6 different continents. BAD BOY's decades of experience creating authentic, competition-quality gear has made BAD BOY the best technical brand on the market. For more information on BAD BOY, visit http://www.badboy.com.