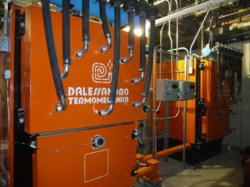 "The new Lebanon Middle School will conserve natural resources and consume less energy." - Steve Usle, Trumbull-Nelson Construction
Lebanon, NH (PRWEB) March 22, 2012
Biomass Commodities Corporation and Trumbull-Nelson Construction are completing the installation of two wood pellet boilers at a new middle school in Lebanon, New Hampshire. School Administrative Unit (SAU) #88 designed the new Lebanon Middle School to include the two wood pellet fired boilers to heat the entire 100,000 square foot building. The two wood pellet boilers provide all of the heat for the new building. A solar array will produce hot water during shoulder and summer seasons. Due to this innovative design and the inclusion of renewable energy systems, the new building will burn zero fossil fuels. A Northeast CHPS rating as a high performance school is anticipated.
"Several innovative design features were used for this municipal wood pellet boiler installation," said Charlie Agnew of Biomass Commodities Corporation. "The biomass heating innovations include a staged smart control system with remote interconnectivity, an automated ash handling system, pneumatic self-cleaning boiler tubes, and an ultra-sonic silo level detection device."
"Achieving a Northeast CHPS rating is a big deal for the school district," said Steven Usle, Director of Sales and Marketing for Trumbull Construction. "Northeast CHPS encourages school districts to build schools that provide premium educational environments and other important health, productivity, and economic benefits. The new Lebanon Middle School will conserve natural resources and consume less energy. Once the school is certified, SAU #88 can qualify for up to 3% additional State Building Aid reimbursement for the project."
About Biomass Commodities Corporation
Biomass Commodities (BCC) is a renewable energy company that offers a complete solution for wood pellet heating. BCC is a value added distributor and installer of modern wood pellet fired heating systems that provide simple, safe and efficient building heat. BCC provides pellet boiler installations and services throughout the Northeastern United States. Common applications are in centralized heating plants, buildings 10,000 sq ft or more including schools, manufacturing facilities, assisted living complexes, hospitals and residences. Visit http://www.biomasscommodities.com for more information.
About Trumbull-Nelson Construction Company, Inc.
Founded in 1917, Trumbull-Nelson Construction Company, Inc., has been serving northern New England clients for the past 95 years. Our company has grown from its beginnings as a builder of fine homes in the Hanover area to become the Upper Valley's largest General Contractor, specializing in all types of institutional, commercial, industrial, and residential construction. Through the time-honored approach of delivering personal and professional service with integrity, we have become one of northern New England's most respected construction firms. Visit http://www.t-n.com for more information.