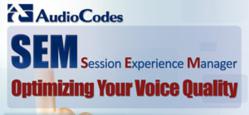 "SEM provides enterprises with the confidence that their VoIP network and services are effectively utilized, function well and deliver the expected Service Level Agreement (SLA)," said Nimrod Borovsky, VP Marketing at AudioCodes.
Lod, Israel (PRWEB) March 21, 2012
AudioCodes, a leading provider of Voice over IP (VoIP) technologies and Voice Network products, today announced the introduction of Session Experience Manager (SEM), a new software solution built to monitor, analyze, report and control the quality of incoming and outgoing enterprise voice calling over the Internet in real-time.
According to a recent study by Frost & Sullivan, the World Network Performance Monitoring and Management Solutions Market with sales of $1.49 billion at 2010 continues to grow at a double-digit compounded annual growth rate, reaching $3.37 billion in 2017. SEM is designed as an intuitive, easy-to-use solution, and includes a wide array of advanced tools that produce a continuous comprehensive view of voice quality of experience (QoE) at the enterprise network and its connecting trunks. Among these tools are network views to map devices and their associated voice quality, graphic illustrations of VoIP calls metrics, convenient drill down details of a given call, traffic trend analysis to identify current and future bottlenecks, active and historic alarms display, and flexible pre-defined reports. In addition to VoIP, SEM includes an innovative tool for analyzing fax transmission quality.
"SEM provides enterprises with the confidence that their VoIP network and services are effectively utilized, function well and deliver the expected Service Level Agreement (SLA)," said Nimrod Borovsky, VP Marketing at AudioCodes. "It is an ideal solution for contact center environments, distributed enterprises with remote users and multiple branches, businesses connecting to SIP trunking providers and many other organizations that want to reap the benefits of VoIP and Unified Communications services while experiencing high quality voice communication."
SEM supports the AudioCodes Mediant family of Media Gateways and Enterprise Session Border Controllers (E-SBCs). It is integrated with AudioCodes' Element Management System (EMS), allowing IT managers to update the configuration of supported AudioCodes networking devices as an immediate remedy to certain QoE issues identified by SEM. SEM eliminates the need for special hardware-based probing elements, and can be deployed as a virtualized solution to enable maximum flexibility in implementation with other server-based installed solutions. More information about Session Experience Manager can be found at:
http://www.audiocodes.com/SEM
AudioCodes is presenting and exhibiting at Enterprise Connect 2012, Booth #1136, held 26-28 March, 2012 in Orlando, Florida.
About AudioCodes
AudioCodes Ltd. (NasdaqGS: AUDC) designs, develops and sells advanced Voice over IP (VoIP) and converged VoIP and Data networking products and applications to Service Providers and Enterprises. AudioCodes is a VoIP technology market leader focused on converged VoIP and data communications and its products are deployed globally in Broadband, Mobile, Enterprise networks and Cable. The Company provides a range of innovative, cost-effective products including Media Gateways, Multi-Service Business Gateways, Session Border Controllers (SBC), Residential Gateways, IP Phones, Media Servers and Value Added Applications. AudioCodes' underlying technology, VoIPerfectHD™, relies on AudioCodes' leadership in DSP, voice coding and voice processing technologies. AudioCodes High Definition (HD) VoIP technologies and products provide enhanced intelligibility and a better end user communication experience in Voice communications. For more information on AudioCodes, visit http://www.audiocodes.com
Statements concerning AudioCodes' business outlook or future economic performance; product introductions and plans and objectives related thereto; and statements concerning assumptions made or expectations as to any future events, conditions, performance or other matters, are "forward-looking statements'' as that term is defined under U.S. Federal securities laws. Forward-looking statements are subject to various risks, uncertainties and other factors that could cause actual results to differ materially from those stated in such statements. These risks, uncertainties and factors include, but are not limited to: the effect of global economic conditions in general and conditions in AudioCodes' industry and target markets in particular; shifts in supply and demand; market acceptance of new products and the demand for existing products; the impact of competitive products and pricing on AudioCodes' and its customers' products and markets; timely product and technology development, upgrades and the ability to manage changes in market conditions as needed; possible disruptions from acquisitions; the ability of AudioCodes to successfully integrate the products and operations of acquired companies into AudioCodes' business; and other factors detailed in AudioCodes' filings with the U.S. Securities and Exchange Commission. AudioCodes assumes no obligation to update the information in this release.
©2012 AudioCodes Ltd. All rights reserved. AudioCodes, AC, HD VoIP, HD VoIP Sounds Better, IPmedia, Mediant, MediaPack, OSN, SmartTAP, VMAS, VoIPerfect, VoIPerfectHD, Your Gateway To VoIP and 3GX are trademarks or registered trademarks of AudioCodes Limited. All other products or trademarks are property of their respective owners. Product specifications are subject to change without notice.