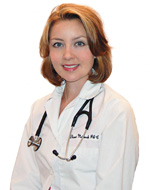 Although being diagnosed with type 2 diabetes can be frightening, early intervention can help make the disease more mangeable.
Neenah, WS (PRWEB) March 22, 2012
Type 2 diabetes is a chronic condition that affects the way a body metabolizes its main source of fuel: sugar, also known as glucose. Although there is no cure, the condition is manageable and even preventable in some cases. The American Diabetes Association Alert Day is a way to increase public awareness of diabetes risks.
"People who may be at risk for type 2 diabetes include those who are over the age of 45, overweight, lead sedentary lifestyles and have a family history of the disease," said Dianna Malkowski, physician assistant, nutritionist and professional adviser for The CareGiver Partnership. "Symptoms can include increased hunger, thirst or urination; weight loss or fatigue; blurred vision; frequent infections or slow-healing sores; or areas of darkened skin in body creases."
"Symptoms can develop very slowly, and although being diagnosed with type 2 diabetes can be frightening, early intervention can help make the disease more manageable," adds Malkowski. She says strategies for managing type 2 diabetes will include a lifelong commitment to the following areas:

Healthy eating. Registered dietitians put together meal plans that fit their patients' lifestyles and health goals. A plan may include fruits, vegetables and whole grains, along with guidelines for tracking carbohydrates and the glycemic index of foods. A diet may also include glucose-control juices or shakes.
Physical activity. A doctor will recommend an exercise program that may include at least 30 minutes of aerobic exercise most days of the week.
Blood sugar monitoring. A doctor will create a treatment plan that dictates how often blood sugar levels are checked. Levels can change in response to diet and activity, alcohol, hormones or stress, and medication or illness. Monitoring tools include glucose monitoring systems, lancets, test strips and, in some cases, urinalysis or other types of testing kits.
"For patients who can't control their diabetes with diet and exercise alone, doctors may prescribe medications or insulation therapy," Malkowksi says.
Although Alert Day is once per year, the risk test is available year-round. Get more information on Alert Day, and look for the new risk test to go live on March 27.
For more information, visit The CareGiver Partnership blog and type "diabetes" in the search bar.
Dianna Malkowski is a Board Certified Physician Assistant and Mayo Clinic trained nutritionist specializing in diabetes, cancer, wound healing, therapeutic diets and nutrition support. She serves on the board of professional advisers for The CareGiver Partnership and enjoys working with patients and caregivers alike. Ask Dianna a question.