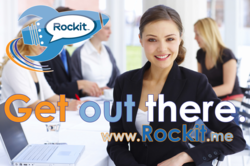 Rockit provides SMB's the opportunity to engage their repeat loyal customers on social networks
and turn them into proactive brand ambassadors for their favorite businesses. -Roger
Toennis, CEO of Rockit
Boulder, CO (PRWEB) March 21, 2012
Rockit Media, LLC. ("Rockit") developer of a patent-pending Automated Marketing Solution that simplifies marketing for small and mid-sized business, announced today that they have entered into a multi-year contract with VoodooVox, Inc. ("VoodooVox") (TSX: VVX) to formulate and execute a reseller agreement to deploy the automated marketing solution, known as "Rockit". This agreement stipulates VoodooVox is to be compensated through a revenue-sharing arrangement on the sale of product and services to businesses. This relationship is an opportunity for Rockit to propel their sales efforts by broadening their global reach, capitalizing on market share and monetizing consumer engagement.
Rockit provides a suite of affordable, automated, easy to use, tools to deliver highly profitable repeat customer traffic, and integrates all popular mobile and social interfaces into one dashboard. Businesses are able to utilize the Rockit automated marketing service to quickly create and send promotional announcements to customers using: Facebook, Twitter, Email, Text, Voice and/or the Rockit Rewards App available on Android and iPhone. If used over time, the Rockit platform helps businesses analyze, predict consumer trends and engage their loyal customers in new and profound ways.
Rockit's automation technology, unified social media dashboard and turnkey rewards programs can be used to quickly and seamlessly improve business awareness and enhance performance based results. Businesses leverage Rockit, to reach their customers in real-time, wherever they are, during optimal hours, to obtain higher consumer response rates. Research tying customer engagement to loyalty and profitability shows opportunities for small businesses to increase their profits 25%-85% using the Rockit platform. Rockit's marketing automation technology benefits companies by offering unified social media and mobile communications to enhance consumer engagement. Companies may further engage their customer by utilizing loyalty incentives and rewards, and advanced promotional targeting to filter and improve response.
"Rockit provides SMB's the opportunity to engage their repeat loyal customers on social networks and turn them into proactive brand ambassadors for their favorite businesses." according to Roger Toennis, CEO of Rockit Media. "For the first time, businesses are able to simplify the task of measuring their marketing response and conversion rates in real-time, in order to maximize their marketing dollar, while delivering a higher return on their overall investment".
"This is a great opportunity for us to broaden our product offering to include a loyalty platform," added Michael Durance, CEO of VoodooVox. "We can now address the entire customer life-cycle from generating new customer leads through smart mobile ad placement to ongoing customer relationship management."
Rockit's core business model is complimentary to VoodooVox as both aim to provide a high caliber, performance rich, cost effect automated marketing platform to their customers. VoodooVox uses consumer analytics to provide a smart automated marketing service via the cloud to publishers, advertisers and operators. VoodooVox, processes billions of advertising transactions for a marquee list of global clients and partners. Currently, VoodooVox solutions are deployed in 12 countries around the world.
With the shift in our global economical system, businesses are eagerly pursuing new and uncharted ways to maximize their marketing investments, to engage existing and new consumers.