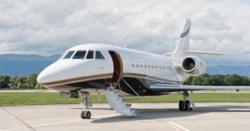 Far from seeing a reduction in the number of people wishing to fly to Greece and Athens we have seen a marked increase
London, UK (PRWEB) March 22, 2012
The financial crisis in the Eurozone and Greece in particular is not deterring private jet users from making plans for trips to Greece and Athens for summer 2012. In fact Private Jet Central has seen a significant rise in inquiries in the months since Christmas. Several reasons for this have been put forward by the company as they aim to adjust the deployment of their fleet.
The MD of Private Jet Central has said "Now is the time when we begin planning the deployment of our fleet for the busy summer period". He went on to say "Far from seeing a reduction in the number of people wishing to fly to Greece and Athens we have seen a marked increase".
This is naturally great news for Greece whose tourism industry may be its one saving grace in these economically troubled times. The experience of Private Jet Central follows a wider tourism trend at all levels of the industry. Tourism levels for Greece are expected to grow by 2-3% this year as tourists sense a value for money holiday destination. Greece will also benefit from the on-going upheaval in formerly popular destinations such as Egypt and Tunisia.
Business and pleasure users wishing to fly private jet from London to Athens have an unequalled choice of jet at PJC. Specialising in jets of all sizes from piston jets to mid and heavy jets they aim to find the perfect jet for each of their customers. With the addition of round the clock access to dedicated flight consultants and an improved streamlined booking service Private Jet Central offer a genuinely first class service.
Private Jet Central is a global jet charter company with offices in the United Kingdom, United States and the Middle East. Founded in 2001 they offer a range of jet charter services to business and pleasure users in the UK and Europe. With over 10 years' experience in the jet charter industry they are ideally placed to meet their client's requirements. More information on the full range of services offered by Private Jet Central is available from their website at http://www.privatejetcentral.com/ and also by contacting any of their offices by phone or via e-mail.