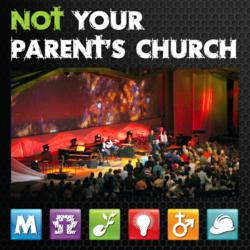 (PRWEB) March 21, 2012
"Not Your Parent's Church", a national seminar presented by Building God's Way, will make two stops in Florida next week. On Monday, March 26, the seminar will be hosted at Church in the Son in Orlando and on Thursday, March 29, the seminar team will visit Seminole Garden Center in Tampa. Not Your Parent's Church will focus on key trends and strategies in church design, church building and renovation, fundraising, financing and growth - all aimed at reaching the millennial generation.
The seminar speaker panel will include experts in the areas of church architecture, church construction, fundraising, finance, leadership and church growth. Each of the speakers have worked with hundreds of ministry-based organizations across the country and will share vital information about how successful and vibrant ministries are responding to the largest generational shift in U.S. history.
Not Your Parent's Church will shed light on how the new generation is impacting the way ministry space is being designed, utilized and funded. Building God's Way architects have designed more than 500 facilities for churches and Christian schools and will share new perspectives on master planning and design that are key in reaching the Millennial generation. Recent research indicates that a paradigm shift is bringing about new economic realities for ministries. As giving declines, churches must prayerfully seek out new and creative ways to fund ministries and outreach. In one seminar session, entitled, "The Church Facility...it's not just for Sunday's anymore," the architects will share about how facilities that are planned and designed properly can play a key role in financial sustainability for churches.
The architects and the local BGW construction partner, Collage Companies, will also share about a unique construction delivery model that is changing the way churches and Christian schools are being built. With a foundation based on relationships, stewardship and outreach, this proven process is delivering a consistent 20-30% savings compared to standard design and building methods - without lowering quality. The program focuses not only on lowering up-front construction costs, but also has a huge impact on long-term operation and maintenance costs. The construction session will provide detail about the key elements that lower costs, including a unique pre-construction process and an exclusive network of suppliers for building materials, products and furnishings.
BGW Architect Don Mahoney has extensive background in church, school and performing arts architecture, designing prominent facilities with worship seating in the thousands. His expertise in architecture has been recognized with a number of national design awards, including multiple WFX Solomon Awards for Best Church Architect, Best Church Design, Best Special Project and Best Digital Church; The LCEF Arts & Architecture Award for Best Liturgical Design, and recognition among the 7 most innovative churches in America by Ministry Today.
Pastor Terry Bates will headline the fundraising and growth tracks of the seminars. Terry has personally led several congregations through barriers to incredible growth and have helped ministries across the country to inspire and motivate their congregations to successfully fund their God-given vision. Terry Bates is currently the pastor of OKC Faith Church in Oklahoma City and is the author of "Positioning Your Church". Terry previously worked with Dr. John Maxwell's Million Leader Mandate, in which he was involved in training more than 250,000 in Asia and Africa.
Pastor Bates will share some keys to developing momentum in any economic environment, momentum that can lead to increased attendance, greater member involvement and increased giving capacity. In another session, the pastors will provide an overview of a radically different concept in capital fundraising called "Hearing from God." This refreshing approach is having dynamic results with ministries around the country without the high pressure and manipulation tactics common with most capital fundraising campaigns. Attendees will learn how their ministries can cultivate spiritual sensitivity as their congregation joins together to pray, fast and respond to the individual vision that God has for them.
David Sims, President of BGW | Financial, will share about Biblical-based, creative, comprehensive and coordinated strategies for church financing that can help get your project funded, even in the toughest economic environment. David earned his undergraduate degree in Business Administration/Finance and his law degree from the University of Florida in Gainesville, Florida (1983, 1986). He subsequently earned a Masters in theological studies from Reformed Theological Seminary, Orlando and a doctorate from the University of Durham in Durham, England. In addition to his Florida law license, David holds the Series 6, 24, 62, 63 and 65 FINRA securities licenses and is Life and Health Insurance licensed. David is currently writing three new books, Preparing for the Coming Tax Tsunami, Building Responsible Stewardship and Tax Free Retirement.
For more information or to register for a BGW "Not Your Parent's Church" seminar, visit the BGW Events Registration web page.
About Building God's Way - With a portfolio of nearly 400 churches and 120 Christian schools and colleges nationwide, Building God's Way ("BGW") has become a recognized leader in ministry design and construction. BGW has also developed an unparalleled network of kingdom building services that extend beyond just architecture and building and includes growth coaching, vision casting, capital fundraising, financing, leadership development and more. The mission of Building God's Way is to build God's Kingdom by translating the God-given ministry vision of Christian organizations through high-quality, cost-effective buildings and by demonstrating the love of Christ on the job site through the BGW Ministry of Construction program.
###