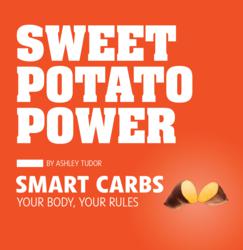 Optimizing health and managing weight is about more than just calories in/calories out.
San Francisco, CA (PRWEB) March 21, 2012
Our bodies were designed for a different world when gorging on sugars, salt, and fat was an advantageous survival strategy. While our world has changed into one of food abundance, our operating system has not because it takes us tens of thousands of years to evolve and adapt to our surroundings.
Sweet Potato Power, set to release on April 7th, is an exploration into the sciences of nutrition and optimizing personal health using the sweet potato as a protagonist.
"The sweet potato is an underestimated vegetable that been the foundation of health from the ancient Inca's to saving populations from China to Africa," Tudor says. "While today we don't face starvation from lack of food, we face starvation of health. This humble root can once again save the day with its super star spot on the table." The beneficial health effects of the sweet potato provide a metaphor and backdrop for Tudor's thesis.
"Optimizing health and managing weight is about more than just calories in/calories out," Tudor says. "Sweet Potato Power explores the role of food, inflammation, and hormones, such as insulin and cortisol. It dives into the world of our bodies so you understand these different pillars of health and it uncovers why sweet potatoes are a super power food. Sweet Potato Power teaches readers how to adjust their body to shed pounds, move past plateaus, increase athletic performance, and to feel great."
Sweet Potato Power also offers forty-five sweet potato recipes with a Paleolithic twist. The Paleolithic lifestyle, made famous by bestselling authors Dr. Loren Cordain and Robb Wolf, is a wildly popular method of eating the same foods our ancestors did to combat weight gain and a variety of diseases.
With the book's self-tracking and self-experimentation resources, readers can use Sweet Potato Power develop their own diet rules, shed unwanted pounds, reverse disease, and discover insights about their own bodies. With new tools and how-to guides, readers can navigate their way to better health.
Ashley Tudor has a diverse background in health and fitness innovation. She has worked with Fortune 500 companies to tackle tough health-related issues such as creating dieting programs, designing strategies to help food companies fight obesity, conceiving new medical devices for primary care physicians and developing online tools to help people use food as medicine. In recognition of her work, Mayor Gavin Newsom named Ashley one of San Francisco's Top Innovators in Health in 2010.
Tudor is also an avid self-experimenter and early adopter of quantified self-tools and methodologies. Her experimenting, tracking and body hacking helps her attain peak mental and athletic performance. A fitness devotee and outdoor enthusiast, she enjoys CrossFit, rock climbing, mountaineering, ultra-marathons and hunting. Combining her passion for cooking and nutrition, Ashley loves experimenting with food and making recipes nutritionally delicious. She has been recognized nationally for healthy, nutritious recipe development. She studied political economy and sociology at Dartmouth College and Oxford University. She lives in San Francisco, California.
Follow Ashley on twitter @ashleytudor
On facebook at http://www.facebook.com/pages/Sweet-Potato-Power