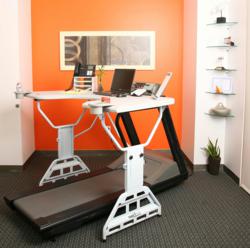 The findings are not confined to people who are overweight and suggest that even people who are not overweight could benefit from breaking up their sitting time.
Scottsdale, AZ (PRWEB) March 20, 2012
New Research from the Baker IDI Heart and Diabetes Institute reported recently in Diabetes Care (a publication of the American Diabetes Association) has shown that overweight and obese employees who regularly sit for long periods of time could improve their health by adding regular activity breaks into their daily schedule. TrekDesk treadmill desks allow activity through out the day without the need to pull employees away from regular office tasks.
The Baker IDI researchers measured the blood glucose levels at various intervals in obese study participants following a high calorie meal. The study found that employees were much more effective in their body's control of both glucose and insulin levels when performing regular two minute regimens of either light or moderate intensity activities such as walking.
This finding is significant since spikes in glucose and blood sugars are known to cause a vast number of severe health problems over time, including: cardiovascular disease, atherosclerosis, and diabetes.
Lead researcher Dr. David Dunstan explained the significance of their findings to Diabetes Care: "In a controlled laboratory environment that mimicked the typical patterns of desk-bound office workers, participants who interrupted their sitting time with regular activity breaks, showed up to 30 per cent improvement in the body's response to a meal containing glucose. The good news is that the improvements were seen even with light-intensity activity, which is the equivalent of strolling."
"Our research has already shown that sitting for long periods can be hazardous to health. Sedentary behaviour is also a risk factor for chronic diseases, including some cancers. The results of this study now provide some direction about what activity can be undertaken to break up sitting time and counteract the negative effects of sitting for long periods, including the frequency of breaks required to improve health outcomes."
Dr. Dunstan was quick to add that the health dangers of sitting were not confined to merely the overweight and obese nor specifically to office environments. "The findings are not confined to people who are overweight and suggest that even people who are not overweight could benefit from breaking up their sitting time."
The researchers found that light intensity exercise was just as beneficial as moderate intensity exercise in delivering healthy results. The mere act of standing up and walking around the office was sufficient to impart the myriad benefits found in the study.
"Our bodies clearly need continuous activity through out the day, study after study confirms this," stated Steve Bordley, CEO of TrekDesk Treadmill Desks. "We have been sounding this alarm since 2008 that employees need to keep moving to stay healthy and to increase productivity."
About TrekDesk Treadmill Desks: Designed to fit any existing treadmill, TrekDesk treadmill desk is an affordable, full sized, height adjustable workstation that allows individuals the opportunity to gain the necessary amount of exercise daily to maintain health, prevent disease, strengthen muscles, boost mood and productivity, without requiring additional time during the day or extra motivation. Workout at work with TrekDesk. No sweat!
TrekDesk is currently available for sale online at http://www.trekdesk.com.
Join the TrekDesk "Movement Revolution" to learn more, win a free TrekDesk or ask any health related questions anytime at http://www.facebook.com/trekdesk, or follow TrekDesk on twitter -http://www.twitter.com/trekdesk.