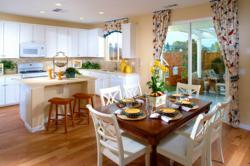 Danville, California (PRWEB) March 22, 2012
Paradigm Real Estate Solutions and DeNova Homes are proud to report over 50 new homes sales in Northern California since mid 2011. Happy homeowners are spread among three new homes communities in the state: Cimarron in Gilroy, Southgate in Petaluma, and Oak Leaf Ranch located in the historic Napa Valley.
"We are truly pleased with the level of success we've been able to achieve with our clients this year" says Michael Carreno, President and Chief Operation Officer at Paradigm. "Even though the economy is still challenging, our innovative sales and marketing solutions exponentially expand consumer visibility to our properties and effectively converts them to increased sales."
Paradigm Real Estate Solutions continues to shake up the industry with cutting edge marketing, sales, and business intelligence data analysis that uncovers hidden trends and powerful insights for builders. The company continues to dominate social outreach through their online concierge services and onsite sales team. Paradigm uses a proprietary technology platform and a tested suite of marketing and sales techniques to deliver the next generation of real estate solutions for builders, developers, and financial institutions.
DeNova Homes, a family-owned homebuilder in the San Francisco Bay Area, is also looking forward to increased production moving into the new year following tremendous success in 2011 and the outlook for 2012. Founded in 1989, DeNova Homes has shown continued dedication in providing high quality real estate developments, a strong work ethic, and an ongoing commitment to charity and community involvement.
About Paradigm Real Estate Solutions
Paradigm Real Estate Solutions is a full service national Real Estate Sales and Marketing firm leveraging its proprietary technology platform Marketing Success Portal® to deliver the next generation of real estate solutions for homebuilders, developers and financial institutions. Paradigm Real Estate Solutions provides market research, proprietary web based technology and internet-centric methods. For more information visit http://www.ParadigmIntel.com.
About DeNova Homes
DeNova Homes, Inc. is a respected, family owned homebuilder in Northern California, specializing in all areas of residential construction to meet the needs of renters, first time home buyers, and move-up single family purchasers alike. DeNova Homes is an award winning, community focused homebuilder with a long tradition of supporting local charities and organizations. Most rewarding of all are the hundreds of satisfied homeowners who, over the years, have confirmed DeNova Homes' standard of quality, lifestyle, and value. For more information visit http://www.DeNovaHomes.com.