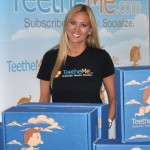 "TeetheMe takes the work out of finding the best baby products," says site founder Akemi Williams.
Tampa, FL (PRWEB) March 22, 2012
Subscribers to the TeetheMe baby products service receive 4-5 innovative baby products on their doorstep each month. It's a convenience that founder Akemi Williams believes parents have been waiting for, and according to a recent New York Times article, she may be right.
The article, "Among Online Entrepreneurs, Subscriptions Are All The Rage" by Darren Dahl, highlights the growing popularity of online subscription services. For the model to be successful, it states, the service must fill a necessary need or come from a passionate source.
"TeetheMe.com fulfills both criteria," says Williams. "As a mother, I was always wishing there was a service like this to take the work out of selecting innovative and practical baby products, and most parents are passionate in wanting the best for their children."
Parents, both everyday and famous, are agreeing. One of the site's most recent members is Entertainment Tonight correspondent Samantha Harris, best-known for her eight seasons co-hosting the live ABC hit Dancing With The Stars.
As the buzz grows, the site prepares to reveal its exclusive network, "The Teethers," where members will create profiles featuring their children and make priceless parent-to-parent connections.
"We invite any parent who wants to experience the most innovative and helpful baby products on the market today to be "teethed" and to join our community," Williams says.
A monthly subscription to TeetheMe is $24 and can be requested at http://www.teetheme.com. In addition to receiving a box of products handpicked by savvy mothers each month, members may rate, review and share product experiences as members of the TeetheMe community. In the site's Diaper Bin, a one-stop newsroom, readers can escape to their favorite mom blogs or catch up on the latest parenting trends. Recipes, advice and more are featured on the site's blog, The Daily Drool.
TeetheMe founder Akemi Williams has a young daughter and is a University of Florida graduate. For more information on TeetheMe.com, visit the official website at http://www.TeetheMe.com or follow facebook.com/teetheme, twitter.com/teetheme and pinterest.com/teetheme.