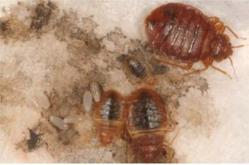 Given that bed bug are sneaky, it takes more than just being cautious of their presence to get rid of the them.
Cincinnati, OH (PRWEB) March 22, 2012
A report from ABCNews.com said that Rollins, a pest-control company, has released a list of the top 50 cities infested by bed bugs in 2011. According to the report, Cincinnati topped the ranking. On the other hand, West Palm Beach and Fort Pierce were ranked the least infested.
The said ranking was based on the number of bed bug treatments performed by the company in the cities. The bed bug treatments counted were those implemented from January to December of 2011. Additionally, the report said that there was about 33.6 percent increase in the bed bug business last year compared to 2010.
Knowing that bed bugs are troublesome, BedBugControl911.com advised city residents to be always on the look out for the pests. As it said, it's not just bed bugs in Florida, Cincinnati or any other city that everybody must be wary of. People must be careful of the pests from everywhere as they are sneaky and fast to spread, it added.
Read below the excerpt of the report Top 50 Bed Bug Attacked Cities Revealed from BedBugControl911.com
===================
It's a big boost for a city to be named safe. However, it's a big blow to the gut if it's labeled unsafe. And small as bed bugs are, their presence can hurt badly a city's pride and image. And for the named top 50 favorite cities of bed bugs, surely, that is something that needs to be addressed immediately.
According to one pest control corporation that released a recent top 50 list of major US cities infested by the blood-sucking pests, bed bug business in 2011 is 33.6 percent higher than 2012. Basically, the company's listing was based on the number of bed bug treatments performed from January to December of last year.
Several cities dropped in ranking compared to last year. Examples of those cities are Dayton, Indianapolis and Minneapolis. However, many more moved up the ladder. Los Angeles is one those with a very significant rise in ranking jumping 20 spots higher. Cincinnati though remains the top bed bug infested city while West Palm Beach and Ft. Pierce are the least invaded.
Read more about the Top 50 Bed Bug Infested Cities Released
===================
Rollins, the corporation that owns seven pest control companies, including Orkin, says it has seen a 33.6 percent increase in bed bug business compared to 2010. The company has just released its rankings of U.S. cities in order of the number of bed bug treatments from January to December 2011.
And the winner … is Cincinnati. Chicago is ranked second, followed by Detroit, Denver and Los Angeles. The report says L.A. moved from 25th to fifth on the list.
Here are the top 50 U.S. cities, ranked in order of the number of bed bug treatments. The number in parenthesis is the shift in ranking compared to January to December 2010:
1. Cincinnati
2. Chicago
3. Detroit (+1)
4. Denver (+2)
5. Los Angeles (+20)
======================
Read more about Top 50 US Cities Infested by Bed Bugs at: http://www.bedbugcontrol911.com/253/bed-bugs-top-50-favorite-cities-named/
======================
"
Given that bed bug are sneaky, it takes more than just being cautious of their presence to get rid of them, said BedBugControl911.com. Hence, it advised the public to take preventive steps and to always be ready to implement a bed bug control treatment. It added, one way to prepare for the vampire-like pests' presence is to purchase a bed bug spray to get rid of bed bugs yourself fast and easy.
Nonetheless, the site also stated that the solution to use must be safe apart from effective to make sure that the treatment is risk-free and eco-friendly. And so, it recommends the use of a pesticide-exempt bed bug spray among others.
To get a sample of a safe bed bug spray, visit http://www.BedBugControl911.com today.