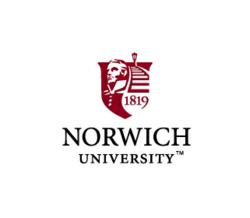 The NULGBTQA made national headlines with its first meeting occurring on Sept. 20, 2011, the day of the repeal of the military's ban on open homosexuality, commonly known as "Don't Ask Don't Tell."
Northfield, VT (PRWEB) March 21, 2012
The Norwich University Lesbian, Gay, Bisexual, Transgender, Question, and Allies Club (LGBTQA) will be hosting its first ever Pride Week at Norwich University March 26-31.
Highlights of the week include a keynote address by Army Chief Warrant Officer Charlie Morgan and remarks by Vermont Governor Peter Shumlin at Norwich's first ever Queer Prom on Saturday, March 31.
In conjunction with community partners such as Outright Vermont and RU12 numerous discussions and awareness-raising activities are planned.
There will be six days of events, a day for each color of the LGBT flag with each color representing a LGBT issue or theme, such as red for AIDS awareness and green for allies.
"The purpose of this event is to express and demonstrate equality throughout the Norwich community, along with the public, in order to promote membership in the NULGBTQA and to educate the public on challenges and issues faced by members of the LGBT community," said Joshua Fontanez, NULGBTQA president and a senior member of the Norwich University Corps of Cadets.
The NULGBTQA made national headlines with its first meeting occurring on Sept. 20, 2011, the day of the repeal of the military's ban on open homosexuality, commonly known as "Don't Ask Don't Tell."
"The NULGBTQA is the first ever LGBT Club on a military campus, and we have had local, statewide, and national attention from members of West Point; the Governor of Maryland; the Director of the National Gay and Lesbian Task Force and Outright Vermont," Fontanez said. "Departments across campus and myriad members of the Norwich Community are coming together in order to help create Pride Week, free for all."
The week's events are sponsored by the Office of the Dean of Students; the Student Government Association; the Student Activities Office; the Office of Substance Abuse Prevention and Education; the Center for Civic Engagement and Campus Climate Committee; the Office of the Vice President of Student Affairs; Human Resources and Title IX; Sodexo; the Office of Student Success and Retention; Norwich Christian Fellowship; Residential Life and the Infirmary.
Schedule of events:
Monday, March 26
12-1:00p.m. – LGBTQ Bias, Harassment, and Bullying workshop (RU12)
Location – Kreitzberg Library Multi-Purpose Room
8:30-10 p.m. – Tie Dye T-Shirts
Location – Milano Ballroom
Tuesday, March 27
8:00 a.m.-2:00 p.m. – Rapid HIV Testing (Outright VT)
Location – Meeting Room 3 and Substance Abuse Prevention/Education Office (both in WCC)
6-8 p.m. – Condom Olympics (Outright VT)
Location – Plumley Armory
Wednesday, March 28
12-1:30 p.m. – "The Anatomy of Hate" (Film)
Location – Kreitzberg Library Multi-Purpose Room
6-7:30 p.m. – Dinner with Local Veteran(s); discussion - Daryl DePaul was the only Vermont veteran to work with the Pentagon Working Group on repeal of DADT
Location – Faculty Dining in WCC
Thursday, March 29
10 a.m.-3 p.m. – Arts and Crafts
Location – Fish Bowl in WCC
6-8 p.m. – Ally Presentation
Location – Kreitzberg Library Multi-Purpose Room
Friday, March 30
12-1 p.m. – HIV Prevention Workshop (RU12)
Location – Multi-Purpose Room in Library
7-9 p.m. – "Lord, save us from your followers" (Film – co-sponsored by the NU Christian Fellowship with discussion to follow)
Location – White Chapel
Saturday, March 31
6-8 p.m. – Queer Prom (Social)
Location – Milano Ballroom
8:30-11:30 p.m. – Free Love Dance
Location – Plumley Armory
Throughout Pride Week there will be a special display in the Rotunda of the Sullivan Museum in honor of NULGBTQA. All events throughout the week are free to all community members.
Editor's note: NULGBTQA President Joshua Fontanez can be reached for comment at jfontane@student.norwich.edu or by calling 802-485-0543 or 609-678-6605. Also the Office of Communications will produce photojournalism quality photos of select events available for publication.