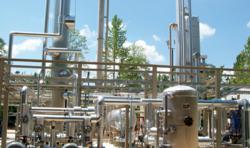 What this means for the world is a major impact on human-induced methane levels, while still managing to create energy and fuel from trash.
Midland, TX (PRWEB) March 20, 2012
In the beginning, there was gas. Lots of it, produced by the anaerobic breakdown of organic material in landfills. As massive amounts of methane slowly dissipate into the atmosphere, the EPA established certain quotas for capturing and "flaring" the methane (CH4) and carbon dioxide (CO2) being generated by our trash. This helps a bit, but costs landfill owners and waste professionals more money for the gathering systems needed to collect landfill gas underground, before its untimely vaporization. If only there was a way to make money back from what was now being gathered and flared away into nothing.
Since the early '80s, the owners of Morrow Renewables, formerly SouthTex Renewables, have mastered the craft of removing volatile organic compounds (VOCs), CO2, H2S, BTEX and other contaminants from natural gas to create pipeline-quality, high BTU sales gas ready for pipeline distribution. Morrow Renewables operates several LFG recovery and treatment plants in the southern U.S., essentially installing and running the entire operation in partnership with local landfills and waste professionals with a monthly residual for partners.
For landfills that generate one-half million tons of waste per year or more, this means a residual revenue stream that far exceeds the cost of gathering landfill gas (LFG), and a versatile plant infrastructure that can capitalize on other markets like compressed natural gas (CNG) and medium-BTU industrial fuels. What this means for the surrounding community is a landfill renewables plant that is less noisy, smells better and produces less smog from diesel particulates and CO2 emissions. What this means for the world is a major impact on human-induced methane levels, while still managing to create energy and fuel from trash.
High BTU landfill gas (LFG) recovery and treatment for injection to gas utility pipelines is not a new procedure. In fact, utilizing barely-treated landfill gas to run on-site electricity plants became popular much later. The high BTU model, however, has received renewed attention due to recent studies by the United Nations and by NASA Goddard Space Institute which show that it is critical to reduce methane pollution globally, beginning immediately.
According to the study, capturing methane and diverting it for use has the greatest potential to offset climate change. The most recent US EPA emission estimates indicate that methane contributes 44% of the entire greenhouse gas inventory of the US. Globally, human activity accounts for roughly sixty percent of the world's methane production and the majority of human-induced methane can all be traced to one area: landfills. Reduction of methane levels from landfills can significantly slow short-term global warming, and with high BTU LFG processing the whole point is to extract every last molecule of methane possible -- not simply get enough to fuel power plant generators.
Morrow Renewables, as the name suggests, is owned by brothers Luke and Paul Morrow, both managing directors, and their father, David Morrow, who founded the parent company (SouthTex Treaters, Inc., recently sold to Kinder Morgan) and who is still with Morrow Renewables as an engineering consultant and business adviser. Under its former identity as SouthTex Renewables, Morrow Renewables established a legacy of excellence, and a reputation as one of the top firms in America for design, construction, start up, and operation of high BTU landfill gas and biogas treatment plants.
Says Luke Morrow, Morrow Renewables managing director, "We are excited about our recent growth and the opportunity to share our newfound renewables focus and identity at SWANA. But only the company name and contact information has changed really. The people, experience, creativity and resources are pretty much the same as what we developed over the last 13 years as SouthTex Renewables. We have simply streamlined our business focus under a new identity, and SWANA's Landfill Gas Symposium is the perfect venue to remind everyone we are still here."
Morrow Renewables currently operates several high BTU LFG-to-Pipeline plants, has another plant almost operational at Turkey Creek near Fort Worth, Texas, and yet another plant in Fort Bend (outside Houston) due for start-up towards the end of 2012.
To learn more, visit the website at http://www.MorrowRenewables.com or drop by booth #513 at the SWANA conference in Orlando.
About Morrow Renewables, LLC:
Morrow Renewables is an established high BTU developer of modified Selexol-type landfill gas treatment and processing facilities, providing an integrated, end-to-end landfill gas-to-energy (LFGTE) solution to the municipal solid waste (MSW) sector. Morrow Renewables is a vertically integrated company that designs, manufactures, constructs and operates high BTU LFG facilities. The company is staffed by professionals with many years of experience in LFG gathering, compression, treating and marketing, as well as NSPS compliance assistance. Morrow Renewables holds a patent on carbon dioxide stripping of pre-treat solvent for landfill gas applications, as well as two patents pending for deeper stripping of solvent to achieve higher methane purity in sales gas.