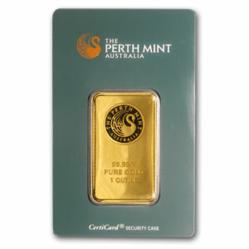 San Diego, CA (PRWEB) March 20, 2012
Liberty Coin & Precious Metals is proud to announce their sale on 1 oz Gold Perth Bars at just $21 over the spot price of gold. As an attempt to gain top-spot on the popular precious metals website CompareGoldPrices.com, where users can see the top prices for bullion dealers on the web, Liberty Coin & Precious Metals is offering these beautiful bars minted by the Perth Mint of Australia at extremely low prices. In fact, the best in the country!
"The reason why we decided to kick-off this sale is that we've had a lot of recent traffic from Compare Gold Prices. We decided that, since we are dedicated to offering the lowest gold prices in the nation, we would take this opportunity to capture the lowest price in the nation on Gold Bars," said Liberty Coin & Precious Metals trader Justin O'Connell. "We plan on offering the best prices for gold bullion for years to come."
The Perth Mint of Australia has a storied history, founded in 1899 as the Western Australia branch of Britain's Royal Mint. At that time, British gold sovereigns and gold half sovereigns were used throughout Britain's Empire as everyday coins for circulation.
Compare Gold Prices, and its sister sites Compare Silver Prices, Compare Platinum Prices and Compare Palladium Prices, has taken the precious metals industry by storm in recent months as it has forced some bullion dealers to pay attention to what their competition is charging.
"My IT guys contacted me about the hits we were apparently getting from these sites, especially Compare Silver Prices, and so when I looked into it I thought it was a pretty interesting idea," said Liberty Coin & Precious Metals President Mark Lonneker. "I use it now as a guide to see what my competition is doing. Sometimes it forces me to really lower my gold prices more than I'd like to, but this is America, and competition is what has made the American economy strong. Plus, with economic turmoil threatening the American Dream, I feel proud being able to get the people their bullion for near wholesale prices."